I first took a really good look at pinup girl fashion during my last (I mean it, LAST!!) family trip to Disneyland. Once the tickets got to $96 I was done. Multiply that by four kids and I'm sure you'll overstand. While battling through crowds and inching through serpentine lines, I saw some women dressed so differently from everyone else aside from the Disney princesses that I was moved to ask one of them if they were promoting some new show. She said no, and handed me a card from a pinup girl shopping site. Little did I know that I was opening up a whole new world of fashion that I had never personally considered.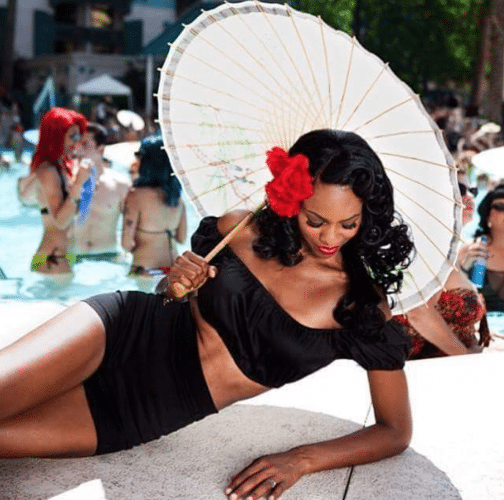 I decided to pick up a few pieces during one of their site-wide sales, and posed for a few shots to put up here on the blog and Facebook, and started wearing them to events, and received some surprising results. I noticed people came to greet and talk to me, with virtually no additional effort than I usually put out. Children stuck out their cubby fingers and said loud enough for me to hear, "Mommy look at the pretty lady!" Men took second and third looks, and lots of complements. It was as like the vintage looks granted me some inescapable chick magnetism. It was an amazing confidence boost.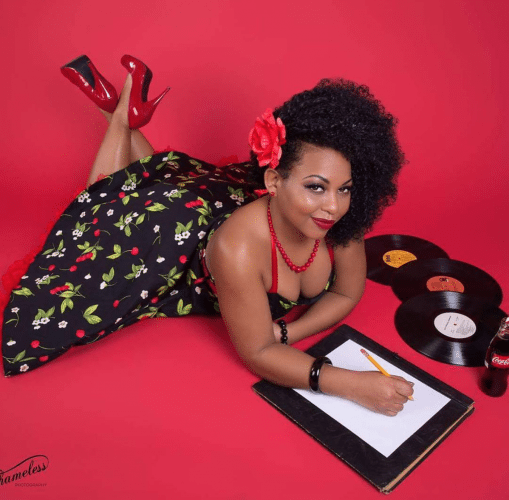 I recently started thinking about what psychology behind a black woman wearing this style of clothing. It's pretty indisputable that mid-century fashion was the best of the 20th Century, and the women portrayed in the pinups tacked on garages and gas stations all over the world were seen as the most feminine and glamorous of all. It brings back a classic nostalgia of Americana–big red Cadillacs and Leave it to Beaver. The pinup girl look on a black woman, juxtaposed beside a stereotype that thoroughly dehumanizes and de-feminizes us is a surprise. It can cause an initial cognitive dissonance, and upset in the lazy way of thinking. All of a sudden you're approachable. You seem friendly and fun. You make people want to say hello. Fashion, literally changing the world.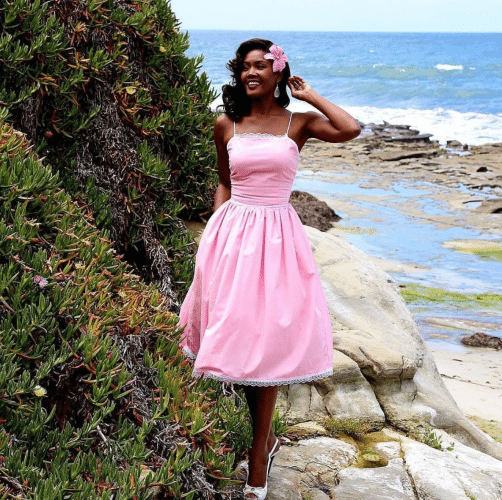 I'll be exploring this idea in more detail for research of a mini-book I'm working on about glamour and online dating as a bonus for the Pros and Cons Series I'm putting together. I believe there's a definite link in this particular style and becoming quite…visible…in a good way.
For fashion inspiration, follow Black Pin Up Models on Instagram.
Follow Christelyn on Instagram and Twitter, and subscribe to our You Tube channel. And if you want to be a little more serious about this online dating thing, InterracialDatingCentral is the official dating site for this blog.