How many times have I said that, although there hasn't been a study, I bet that the rise in online dating correlates with the rise of interracial dating and marriage. In an article published by MIT Technology Review titled, First Evidence That Online Dating Is Changing the Nature of Society, researchers Josue Ortega of the University of Essex, and Philipp Hergovich of the University of Austria noticed something very interesting about social networks and online dating sites.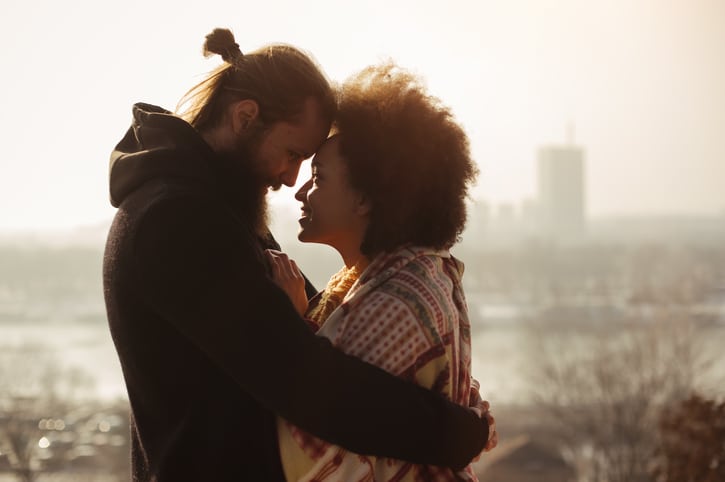 Before Match.com came to the scene in 1995, people met and married roughly within their limited, real life social networks. People dated and married within their six block radius and little more than that. This, of course, limited the frequency and opportunity for interracial romantic interaction. The internet made the world smaller, and more opportunities arose where people from any race, culture and creed can connect with one another. "Our model predicts nearly complete racial integration upon the emergence of online dating, even if the number of partners that individuals meet from newly formed ties is small," say Ortega and Hergovich.
PSST! Have you checked out our master class, Online Dating Decoded? Now might be a good time, ya'll…
… the rate of increase changed at about the time that online dating become popular. "It is intriguing that shortly after the introduction of the first dating websites in 1995, like Match.com, the percentage of new marriages created by interracial couples increased rapidly," say the researchers.

The increase became steeper in the 2000s, when online dating became even more popular.  Then, in 2014, the proportion of interracial marriages jumped again. "It is interesting that this increase occurs shortly after the creation of Tinder, considered the most popular online dating app," they say.
Another interesting factoid–marriages created from online unions last longer than traditional ways of finding a spouse.
Carry this theory further, and one can assume that, since online dating isn't going away, the rise in interracial marriage will continue. We talking about a major change in the uhm…"complexion" of romance.
What say you?
Follow Christelyn on Instagram and Twitter, and subscribe to our You Tube channel. And if you want to be a little more about this online dating thing, InterracialDatingCentral is the official dating site for this blog.