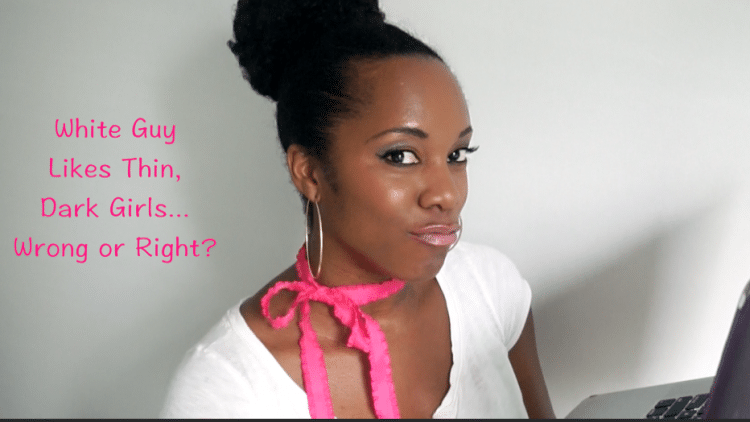 Got this note from "Mark"
Hi Christelyn,

I'm a big fan of yours and I really enjoy watching your videos, partly because you're so attractive. I'm a white guy who has never had a girlfriend but I would love to have an interracial relationship with a black girl. Going through high school I never really thought all that much about dating interracially. Even though I would be okay with dating a black girl, I was more attracted to white girls. However, at the end of my junior year of high school I suddenly realized that I got more excited about the thought of dating a black girl than when I thought about dating a white girl. Now, I only want to date black girls. But here's the thing: I only want to date a dark-skinned black girl. And when I say "dark" I mean really dark. I guess when I see a light-skinned black girl I'm not as attracted to them because they're so close to white skin, and I don't want a white girl nor a black girl that has the appearance of a white girl because they're so light. I'm not racist against any ethnicity, this is just what I prefer. Is it wrong that I have that preference? Would white girls or light-skinned black girls be offended? What I'm worried about is that I'll find the perfect girl but she'll either be white or will be light-skinned which isn't what I want. I'm really attracted to the color difference of my white skin and her dark black skin. Is it wrong to like that? Now, I know that there's more to it than just outside beauty, but I get more turned on when I see a dark-skinned black girl than any other girl. Also, I'm not a fan of big butts and boobs. Where am I going to find a dark-skinned black girl that isn't big and curvy? Again, I'm not racist or trying to discriminate, it's just that that is what I prefer. Are my standards too strict and should I be more open-minded to other kinds of ethnicities and body types or should I just stick to my preferences and only seek dark-skinned black girls who aren't curvy? If you could answer my questions, that would be great!!

Thanks,
Mark

P.S. "Mark" isn't my real name.
Here's my take: