I'm super excited to formally announce that we're having our big SWIRLING shin-dig at The Grand Del Mar's Club M in San Diego. Sponsored by The Grand Del Mar,  AfroRomance (gorsh, I love those folks) and Barlean's Omega Swirl (ha ha, get it?), we're all gonna have a ball–free cocktails and drinks (Love Over Money, "Basca", Brut, Cava, Penedès, Spain), and courtesy of AfroRomance, we're giving away FREE "I Swirl" t-shirts with each book purchase, which will be form-fitting and oh-so-sexy. Here's an idea of what they'll look like: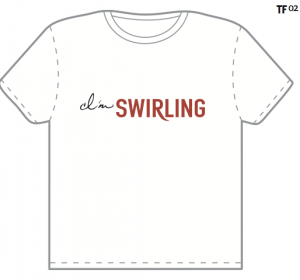 Never heard of five-star resort, The Grand Del Mar? Well…
The format of the event is going to be "Swirling for Newbies," which will consist of an open forum Q&A of all things swirling related. (Almost) no question is too dumb, so you and your'n will be free to ask our panel anything. After the event, Club M will open it's doors to the public for live music, mingling and dancing.
If ever there may be a time to meet that special rainbeau, this might be the prime time and place, ladies. Our SWIRLING event is the same weekend as Comi-Con and San Diego will be swarming with single men. What's more, Janice and I will be on at Comic-Con, uh…recruiting.
If you're coming from out of town, you'd better jump on it. It's almost impossible to find a hotel now, but I just found out that the The Grand Del Mar has A FEW more rooms available, but if you want them, you need to act now. These rooms are $595, which is not terrible considering it's Comic-Con weekend. They also have 2 suites available, which are very nice (1,110 square feet, two full bathrooms, living room, dining room, kitchen, etc). Those are $1095, but the living rooms have full pull out couches, so some of you can room together to offset the cost. But act now…it's almost to late. Call toll-free 855.314.2030 for reservations.
Space is limited and food and cocktails are reserved for the first 100 people. Better hurry and RSVP here.