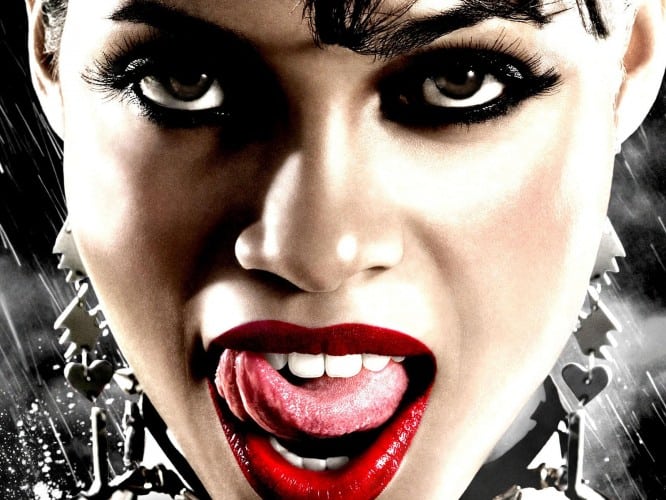 There's nothing better to celebrate than the opportunity to witness a beautiful brown woman donned in superhero gear. So the recent news that Rosario Dawson will be join the comic book craze is well received by folks like me that believe all women are superheros. I loved her in Sin City and can't wait to see what she brings to the re-vamped character who comes ready made with a love interest story.
Comic-book geeks have another beautiful Black character at which to marvel. This weekend's NY Comic Con revealed that Rosario Dawson will play Claire Temple (b.k.a. the Night Nurse) in Daredevil, the first of five original series coming to Netflix via a partnership with Marvel. Dawson's warm character tends to superhero wounds both physical and emotional, and historically has ties to another hero—Luke Cage—who has his own future Netflix series already green-lit, suggesting we might be seeing quite a bit of Rosario in the franchise. It's not the first time the 35-year-old actress takes on the comic book genre; the New York native previously starred in two Sin City films. While she likely won't be kicking tail in this one, her human heart just might prove tenderness is a superpower in itself. [Source]
Even better than that is the fact that the Marvel comics character is more frequently depicted as a blonde or brunette white woman.
In case you're unaware, "Daredevil" follows the adventures of Matt Murdock, blinded as a young boy in a accident that inadvertently imbued him with extraordinary senses. Now fighting against injustice as a lawyer by day, at night Murdock is the super hero Daredevil, who fights crime in a modern day Hell's Kitchen in New York City.

Following "Daredevil," Marvel and Netflix will release series based on the characters "Jessica Jones," "Iron Fist," and the aforementioned "Luke Cage." [Source]
Information is being spooned out quite slowly to maintain anticipation over the upcoming season of original series as private entities like Netflix and Hulu battle the good old boys of entertainment television when it comes to snagging those precious few moments of consumer attention every week. There is still no word of who will play the part of Luke Cage in the series, Edris Elba and Terry Crews were both rumored to be up for consideration but nothing has been announced.
Will you be checking for Night Nurse and the Daredevil series or are comic books something better left for little boys with free time and flash lights? I'm a geek black girl and so I'm not ashamed to say not only do I channel my superhero diva in my fashion choices but that I will also make time to pay homage to the tradition by checking out this show.
So many awesome shows, so little time…and Rosario wearing sexy nurse outfits while doing good things to bad people…. it will be hard to resist!