I had the opportunity to interview S. Helena on her three-year marriage with Naveen. Some of you may remember her from one of Christelyn's in-depth video series, The Pros and Cons of Dating Asian Men. She graciously agreed to be featured in an article and has even suggested future subjects for article features. Thank you for all of your support, S. Helena! I hope you all enjoy the piece.
What are your names?
My name is S. Helena and his name is Naveen.
How did you meet?
We met at an uptown bar and restaurant. I was starting a master's degree at the time. It was my friend's birthday, and I was hanging out with my friends to celebrate, and we decided to go to a restaurant. I wasn't supposed to go out that night, but my friends convinced me to go. It was kind of like that movie, The Sun is Also a Star – it was fate.
My husband was showing friends around the city. His friends wanted to know how to connect with women and pick up people, but he was just kidding around with them. They kept bar hopping until they came to the same place where we were. I just felt drawn to him. I heard a voice telling me that I should speak to him and that I would miss an opportunity if I don't.  It was kind of ironic that he was in the middle of telling his friends that dating was so challenging and how hard it was to meet people. While he was recommending meetups and college connections, I was noticing him and wanted to get to know him better.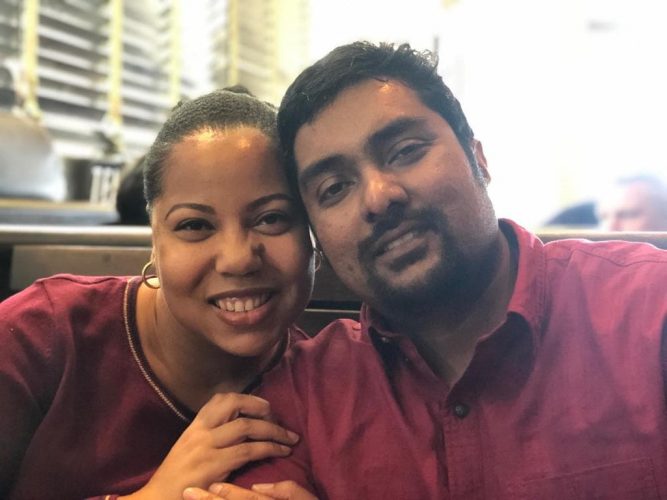 My friends figured out that I was distracted, so I told them what was happening. They were really supportive of me. One of my friends jokingly said that if I didn't go to talk to him, she would. She went right up to their group and said that she wanted to pass a message to Naveen. She gave him my name and number in a napkin. Then she told him that I thought he was cute and would love to go out with him sometime. His friends thought that the whole thing was staged. On the one hand, he was telling them ways to find people, but on the other hand, here I was approaching him. He made the motion for me to come by his table and we talked for quite a while.
He called me the next day, and we talked for about 20 minutes. We ended up going on our first date on Valentine's Day.
What are your cultural/ethnic backgrounds?
I'm African-American with indigenous American, Puerto Rican, French and Scottish ancestry and he is South Indian. He came to the United States through an American-based company in India, and they requested for him to relocate onsite to the U.S.
You and your husband are in a "Blindian" relationship. Do you see many couples like you in your area?
We tend to see some couples like us in our state, but not that many. We're still a pretty small group. There are more and more couples like us online in groups with similar interests.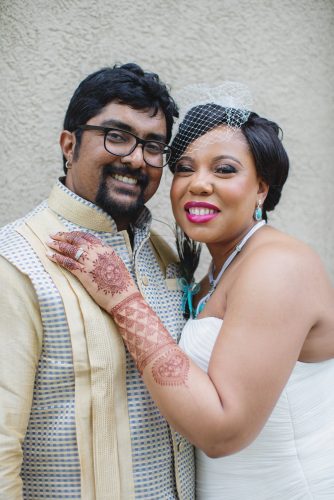 If it's okay to ask, where are you now in your relationship?
We have been married for three years, since May 2016. We had close friends and family at our initial small and intimate wedding ceremony in 2016.  During 2018, we had our big celebration. It was like an East meets West fusion wedding.
When did you know it was going somewhere?
After about two-and-a-half or three months of dating, things started getting pretty serious. He started to ask questions about my financial situation and tried to make sure that I was well taken care of. He helped me with debt consolidation and goal mapping for my future life vision. I love that he didn't hide me from his friends and didn't hide any part of his family or life with me. He told his family back home about me and introduced me to his family members here – some extended family members. I really liked the openness and communication.
What is your ideal date?
We love spending quality time together. I enjoy nature, history and the arts, travelling, and food. I'm a big foodie and so is he. We both love history.
What is the best thing that you like about each other?
His sense of humour is excellent. He has a great personality; it's multi-dimensional. He's great at math and English. Words are really his gift. He loves to write songs and music. He's a real romantic. I can feel a real warmth from him.
I think he's attracted to me because I'm always smiling, and I spread happiness.  He also likes that it is easy for me to come to him and trust his opinion regarding fashion (matching accessories).  He loves my singing voice while in the shower, and the fact that I can find almost anywhere to fall asleep. Fun fact: he surprised me with a photo collage printed on pyjama pants of all the times and places where I fell asleep such as on road trips and during our movie nights at home.
Thank you so much for reading this interview! We'll continue this feature in another segment. If any of you are interested in participating in this series, please leave a comment below or connect with Christelyn Karazin.