New York City is one of those places that you love to visit but don't think you could ever live. There's no shortage of amazing things to do, see and eat but there definitely is a shortage in our budgets. That said, I still like to get everything I can out of the Big Apple when I visit and this can be easily accomplished with a little advance planning and smart shopping. Here are a few of the best places to eat in NYC without having to break the bank.
Shake Shack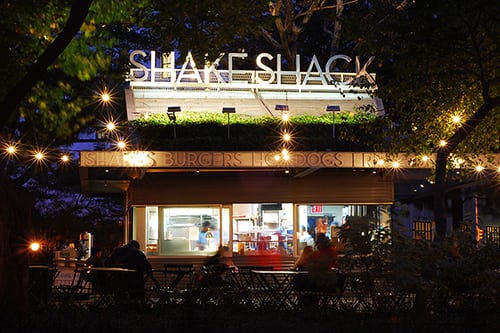 What do you mean you've never eaten at Shake Shack? The now legendary casual eatery began as a food cart in Madison Square Park outside of the illustrious Eleven Madison Park restaurant. During the early days, the place best known for burgers was actually run out of the prestigious three-Michelin-star kitchen and has since become an empire of its own with locations throughout the city. For real, though, it's really good and totally worth the time if you find yourself near one. If you feel like selling your first born or taking a second-mortgage on your house (jokes, of course), Eleven Madison Park also offers a terrific dining experience.
Momofuku Noodle Bar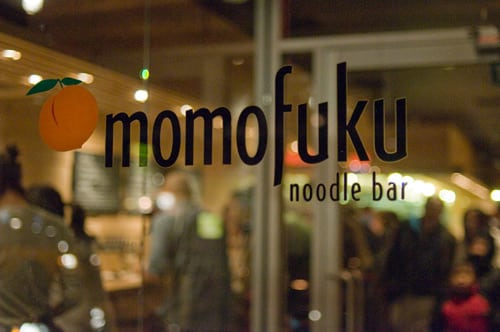 No, I didn't just cuss you out. Momofuku Ando was one of the Japanese geniuses that invented what you know today as the modern ramen noodle. Since then, New York food emperor David Chang has taken the commonplace snack of college students everywhere and elevated it to a level never thought possible. He also created the popular hipster-food magazine, "Lucky Peach," with writer Peter Meehan and continues to spread the good word about food in print. Meehan recently did a great piece here on his own favorite affordable New York eats that's worth a read if you need more places to get your grub on. While Chang and company may be busy running a small empire Momofuku Noodle Bar remains the restaurant that put them on the map and changed the way people love and eat ramen. Go for the classic bowl of ramen and make sure to try the pork buns if you really want your mind blown.
Mighty Quinn's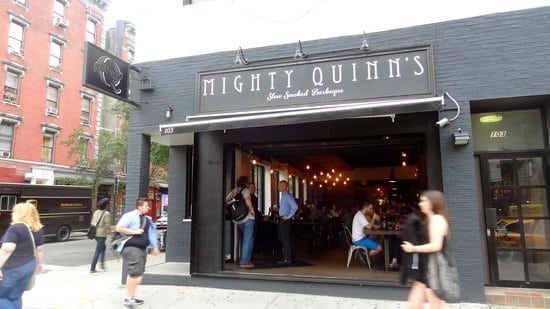 OK, so I originally sought this place out as a direct result of the 1989 movie starring Denzel Washington. Little did I realized that I'd also stumbled onto the best barbecue spot in New York's East Village. According to this article, the restaurant adheres to a fusion style of Texas and Carolina barbecue referred to as "Texalina" that uses both a dry rub and vinegar. As a Californian, I couldn't care less about fighting over barbecue authenticity so long as it's good and cheap. Quinn's definitely qualifies with great brisket and a super affordable and tasty pulled-pork sandwich.
Anything On the List for Restaurant Week
For food fanatics, New York Restaurant Week is one of the best times to visit the city. With incredible deals on some of the greatest restaurants the Big Apple has to offer, it's hard to say no to a three-course meal for less than $30. One report says that more than 350 restaurants will participate in this year's event, which runs from July 20 to Aug. 14. This includes crazy restaurants like the high-class 21 Club, Charlie Palmer Steak, Craftbar by Tom Colicchio (of Top Chef fame) and many other restaurants covering all kinds of cuisine. It's rare that you'll ever get to eat food from some of these chefs at these prices, so take full advantage if you find yourself in the city during Restaurant Week.