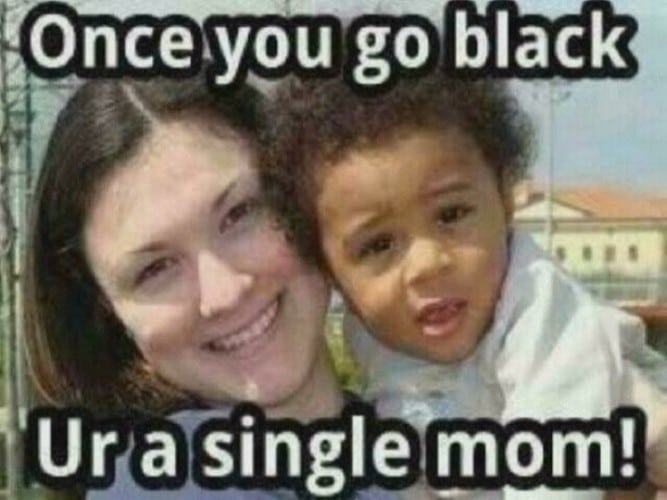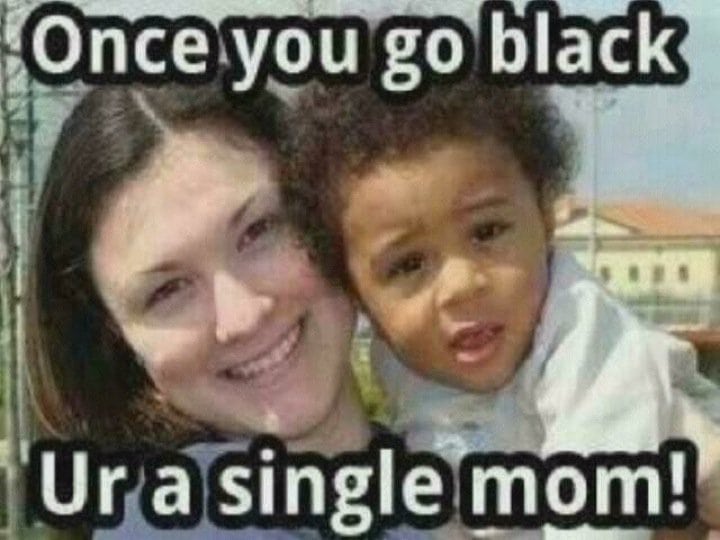 If you've been on social media long enough, and have known my tireless crusade with "No Wedding No Womb," and trying to find solutions to the 70% out-of-wedlock rate in the black community, you know I and my supporters have face fierce opposition. I think I've heard it all:
"Black women need to keep their legs closed!"
"Black women use abortion for birth control!"
"Black women maliciously keep fathers away from their kids!"
"Black women are whores and not worth marrying!!"
"Black single mothers LOVE being black single mothers!!!"
But what I hear the least, is any blame directed at the other 50% of the  problem–the men. The blame is almost always volleyed back to the women, and we hear such explanations like, "Well men are going to do what men do!! You should choose better!!"
This is often a reason haters of black women use to justify why they date interracially. Everything is always our fault, 100% of the time. And it's not just the men who often say this, but their misogynistic handmaidens as well.
Yet, a small study published recently is making it's way around social media garnering much outrage indicates that 92% of biracial children born to black fathers are born out-of-wedlock, and 82% of them are in need of public assistance.
Wow.
And don't think everybody doesn't know about our dirty laundry.
It is well known that in the African American community fatherlessness is a major problem, 70 % of black children are born out of wedlock in the African American community. The tendencies for fathers to be absent from their children's lives has grown into what one can definitely call an African American cultural norm.
Yep. That's what they're saying about the black community. And it's painfully true.
The researchers asked white, Hispanic and Asian women who had children with African American fathers the following: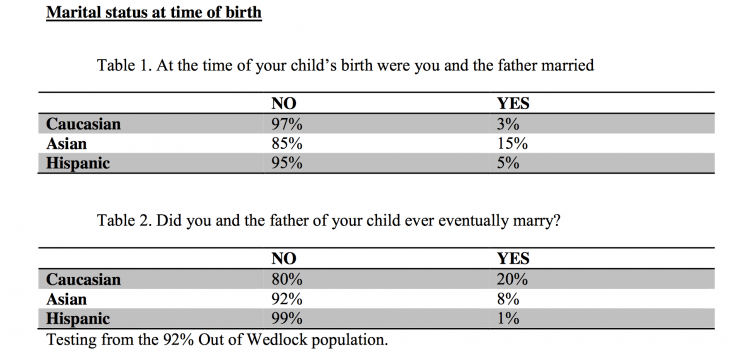 So…if black women are the problem, then how come the out-of-wedlock disease is being exported by the men?
I believe in thinking critically, so don't take my word for it. Read the study for yourself. While I still believe the onus to address our fractured families lies on both men and women, I reject the messages that it is the complete fault and failure of black women. As with all of these studies, take a look around you. Is it what you're witnessing in real, day-to-day life? It's been mixed for me. My brother's best friend growing up got his white girlfriend pregnant and eventually married her, and went on to have four other kids. He's in the ministry and she's a computer geek, and they appear to have a wonderful family with happy, intelligent kids. On the other hand, I have a litter of cousins running around in Texas from white women dumb enough to get caught up with my trifling, distant male cousins with nary a marital benefit.
It would be interesting to see research on how many black women with biracial children are married to their kid's fathers. In fact, why not do one right now?!