Last fall, I decided to grow garlic and shallots in my garden beds. After all, I'd had some good success with growing onions, which was a delicious addition to my homemade spaghetti sauce. I was fascinated at the prospect of how one singular clove could grow into a round, whole, bulb. Little did I know that growing the "stinking rose" has some unexpected health and gardening benefits. The smell deters pests, and it turns out there's some ingredients that assist in deterring everything from cancer, heart disease and even diabetes.
After I found out last week that my sugar levels were in the pre-diabetic stage, I decided to get even more serious about how I can stave off the disease that cost my grandmother one of her legs, and had gradually run down the vitality of my mother. New research suggests that the compounds in aid in lowering blood sugar levels. While we're at it, the sulphur contained in garlic has anti-cancer properties and can lower blood pressure and reduce heart disease.
I can't tell you how COOL it was to harvest these. You can eat them right out of the ground, but it's best to cure them by allowing them to dry out for about two weeks in an airy, non-humid site away from direct sunlight. I had two bulbs ready so I braided the leaves so I could hang them out in the kitchen where I dry my other herbs. Makes it look rustic, huh? Chloe was complaining about the strong garlic smell on the first day but it's dissipated a bit and is now pretty undetectable unless you come right up to it and sniff.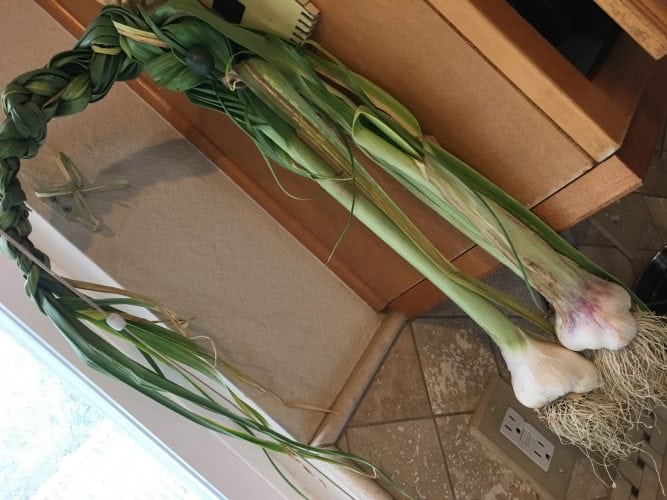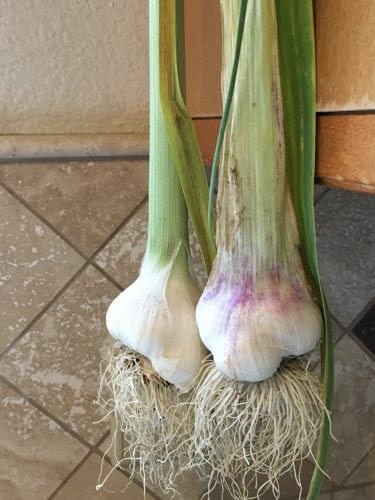 This is what the cloves look like undried. As they dry they will yellow a bit and the white skin you see will dry to the papery outer layer you're used to seeing at the grocery store.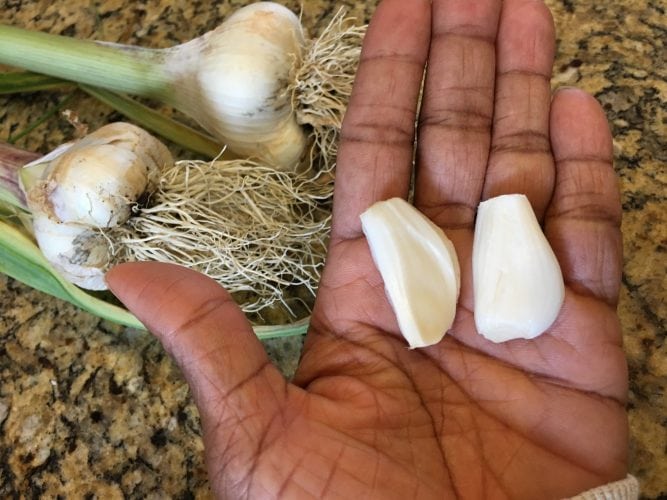 Aside from the garlic, take a look at what else is growing so far. Here's full list:
Tomatoes
Garlic
Onions
Shallots
Basil
Oregano
Zucchini
Strawberries
Blackberries
Blueberries
Lemon
Celery
Eggplant
Apple
Potatoes
Romaine lettuce
Peaches*
Kumquats
Grapes
Swiss chard
Carrots
Sweet peppers
Rosemary
Mint
Sage
Chamomile
Lemongrass
Parsley
Cabbage
Artichoke
Chives
Yeah; it's a lot.
https://youtu.be/hyrWKBlmIqs
Make sure you follow me on Instagram for all my latest gardening, health and beauty posts!