The fall film festival season is upon us! With Toronto, Venice and New York behind us, BFI is underway in London and AFI is coming up in Los Angeles. Then, 2013 will open with Sundance, followed by Tribeca and SXSW in the spring.
Why attend a film festival?
You're interested in:
seeing films before they are released to the general public
seeing films that may not or will not be released in your city/country
Q&A with the director, cast, producers, etc, which reveals details about the creative process or inspiration behind the film
connecting with people in the industry or other attendees who share your love of film
TIFF 2012
Here's a brief rundown of my experience at the Toronto International Film Festival (known as TIFF) a few weeks ago. It was my first time ever at a film festival! You can check out reviews of the movies I saw on my blog at theamateurauteur.tumblr.com.
I arrived the first day of the festival and that evening, went to the rush line for the French film Rust and Bone starring Marion Cotillard. The rush line is for people who don't have tickets but may be asked to come inside (for free) if any empty seats are available. I had just gotten in line (and was about 30th) when some lady walked up and asked if I was alone. When I said yes, she gave me a free ticket and told me to enjoy the show. What amazing luck already! I must say, the Canadian hospitality was wonderful my entire time in Toronto.
I went in and Marion was on the red carpet doing press, right as I walked by! In the theater I sat next to a Canadian woman who was concerned about right wing U.S. politics so we chatted briefly about the U.S. election. The film was introduced in French by the director, which Marion translated. I highly recommend Rust and Bone if it's released in North America.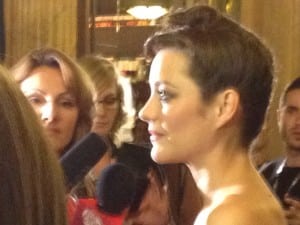 Friday morning I got to the box office super early to try for tickets to that evening's premiere of Place Beyond the Pines, starring Ryan Gosling, Bradley Cooper, and Eva Mendes (Ray Liotta also appears). Some dodgy scalpers (yes, there are scalpers for movie premieres) in line kept asking what I was waiting for, to which I kept replying quite vaguely, as they were giving me bad vibes. There were some girls who had been waiting since the day before to get tickets to Imogene (there's a guy in it from Glee) and when the doors opened, the scalpers took all but one of the remaining tickets to that film! However, I got my tickets and a friend I was meeting went early to make sure we got good seats. As I was heading to the theater, a crazy roar erupted and people started running into the streets like maniacs. It was Bradley Cooper on the red carpet!
The director came out and introduced the cast, one by one. First out was Ryan Gosling of course, then Bradley Cooper, then Eva Mendes, then the rest of the cast. Eva and Ryan's body language was very interesting throughout the evening!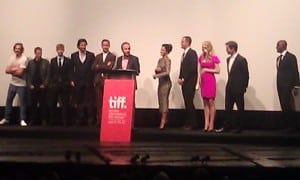 The movie was amazing. At some point my friend nudged me and pointed. Harvey Weinstein was sitting right behind me. However, he left shortly thereafter.
The director and cast Q&A session  commenced shortly after the movie ended. Unfortunately, most of the questions were embarrassingly fangirl-ish and all directed at Ryan. He's really funny in person though, quite quick on his feet. After the second "Ohmygod you're so sexy", he was like "that's a statement, not a question" and tried to kick it back to the director (you can see him smirking in almost all of the pictures below). Some other lady asked (of course after saying how sexy he was) if he could keep any of the tattoos from the movie which one would he keep. I mean, really.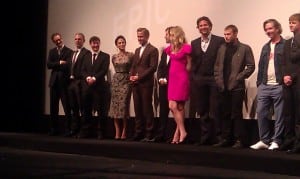 The biggest nonsense came courtesy of some lady who started off her "question" rambling about the upcoming CHL strike and that Ryan was a favored son of Canada and blah blah blah. She then presented him with some hockey paraphernalia. He kindly thanked her, picked it up, got back in line on stage and proceeded to unfold everything.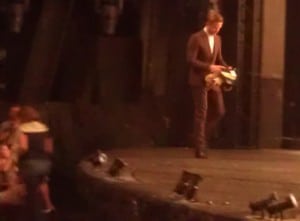 I'd assumed it was a hat and tshirt or jersey or something but… wait for it…
IT WAS A ONESIE.
Anyway, after the Q&A ended we tried to catch the cast for autographs but they left through a back door. I then met up with BB&W's very own Sophia, who took me to a fun sushi joint and showed me around a couple of neighborhoods- the Annex, near the Univ of Toronto, and Yorkville, which is super ritzy.
Coming soon – part 2: Foreign films, the End of Watch premiere and seeing Toronto!
Here are more pictures from my first two days at the festival: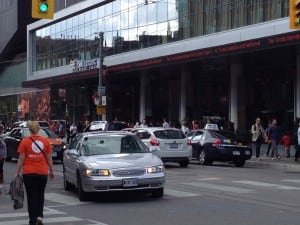 Outside the TIFF Lightbox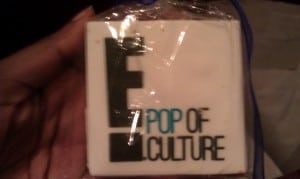 Fun treats handed out before the premiere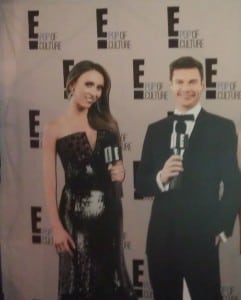 The E! Team