As I continue to hear the lamenting of women striking out online, after bearing themselves through volumes and volumes of written copy about how they love long walks on the beach, sunsets and museums, with no luck of reeling in Mr. Big Fish, I figured it was time for me to speak up.
Here's a tip, and I'm being completely serious: If your picture is HAWT, you can write that you pick your nose, fart during sex, and pee in the shower and you'll STILL get a boatload of potential suitors.
Why you ask, fellow pee-er in the shower? Men. Are. Visual. You could write all about your fluency of five languages, world travel, how you've discovered that the cure for cancer could be found in an ingredient in a sweet potatoe, BUT, if you have a crappy bathroom-mirror picture, full of shadows and white eye make-up, don't be surprised if Mr. Big Fish doesn't bite.
If you're serious about your presentation, you need to get a GOOD picture. I mean, like a professional one. And no–you don't have to pose topless with only a boa, but you need an artist who can look at you objectively and work the lighting and position so you look YOUR BEST SELF. Ming Gregory, CEO of Colorblind International, the interracial match-maker you heard here yesterday, agrees COMPLETELY. She tells her clients to get professional pictures and how the best visual presentation gives the best odds, and some of them balk and say silly things like "Well he should just like me for me!"
Well then girl, date a blind man.
Take me. I about grew a second head when my writing partner said we need to get professional pictures done, AND THEN told me how much money it would be. It was not cheap. But there was no question that a picture of me like this: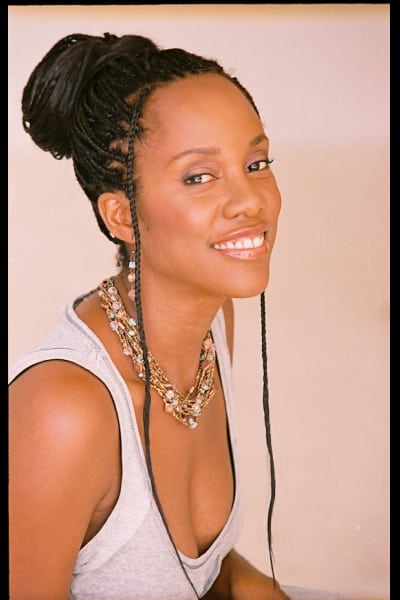 Got me more friends on Facebook, more radio spots, more interest (mostly uninvited cuz I's married) than a picture like this:
I sometimes can't believe that chick with the braids is me. The photographer brought out a sensual me, the kind of picture men find…urhm….stimulating, if you get my drift. It's classy AND sexy, the make-up is done to perfection and the lighting all worked to make me almost not recognize me. The second picture, which I also think is good, is the "mommy me." It's day-to-day and could easily blend into the virtual stable of online singles (if I were one) to choose from. The first picture, if I do say so myself, is definitely more eye-catching to men.
And that's the objective, right? Catch their eye, THEN catch their heart. Most of the time, it goes in that order.
Trust me.
Now go find a photographer. But please for the love of all things wholly, don't go to Wal*Mart.
P.S. Go to the MAC counter before your pictures and let them do your make-up for free, then go get those shots.