Remember Whitney? He used to blog for us under the name "YoungTeach"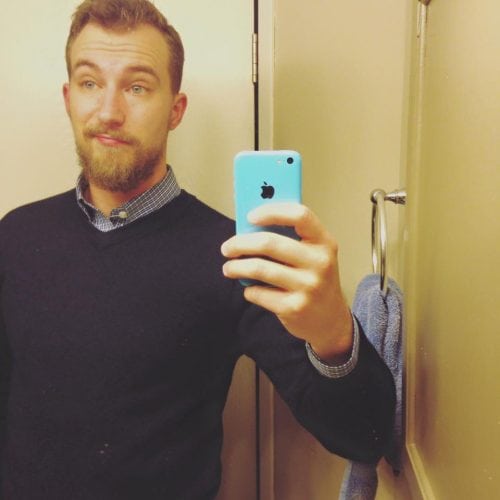 The Windy (and snowy, and rainy, and sunny, and it was 35 degrees yesterday and now it's 70) City
Summertime Chi… No matter where I end up, it will always be my favorite. Everyone knows Chicago is windy and cold, but not everyone is aware that 6 months of freezing temperatures are worth the 3 months of paradise that the summer offers. Even in the winter, Chicagoans stay warm with our memories of the last summer and our anticipation of the next. My biggest complaint about the Chicago winters is that it's so hard to get to the gym in the snow and sleet that I typically go into April with some pre-hibernatory weight around the mid-section. I'm aware that hibernatory is not a word, but I'm writing the article so I can do whatever I want. Coke is better than Pepsi and McDonald's fries taste like floppy salted cardboard. Boom.
Chicago Nightlife – Anywhere and Everywhere
Going out at night in Chicago is a trip – nay, it's THE trip. The city has so much diversity to offer. There are a million and one spots to hit, but my favorite is Lion Head Pub in Lincoln Park. Respectable pub on the first floor, outrageous club on the second floor. (By the way, if any Lion Head Pub owners are reading, that slogan will only cost you $10k per usage).
I have fond memories of drinking a pylon of beer in the oak-adorned pub downstairs, and then stumbling to the to the dimly-lit club and my heart swelling every beat that it takes my eyes to adjust to the sheer dichotomy of deep bass and undulating, entranced people sweating the stress of the week away on the dance floor. It's the best of both worlds.
If you're interested in scaling your sights to the highest level of elegance, Gilt Bar on Kinzie is swanky – as is its older, classier sister: Bavette's Bar and Boeuf. This past weekend, my gorgeous date and I patronized Bavette's before an evening at the Chicago Symphony Orchestra performance of several Russian works from Stravinsky, Dvořák, and Prokofiev. I would submit that the $60 rib-eye was equally impressive as the CSO performance – and thats coming from a classical musician.
Or you can go to Porn 'n' Chicken at Evil Olive on Monday nights. It's exactly what it sounds like.
The Right To Bear Arm(s Candy)
Irrespective of your nightlife choices, you need someone attractive to spend those nights with – arm candy, if you will. Dating in Chicago, especially when swirling, is more complex than my time in the American South. As I mentioned in my video interview with Christelyn, Chicago is a deeply segregated city. Due to a long history of redlining, gentrification, and white flight, your skin color has a lot more to do with your geographical location than a lot of other places in the USA. Don't let that deter you from dating outside your race, however. For every cloud there is a silver lining.
(Pssst! Who is Whitney?)
https://youtu.be/FSiWml_W4Ts
Spending time in the varied demographics of Chicago is a requirement of anyone who would be considered a Chicagoan. My disclaimer to that statement is that I have only lived in Chicagoland for 3 years, but I firmly believe there's a difference in living in Chicago, and being a Chicagoan. That said, dating outside of your race is always a must but it's especially enriching in Chicago (silver lining? I think so.) In fact, if you're NOT dating outside of your race in Chicago, then you're doing it all wrong.
Get UP Offa That Thang!
Spending time in predominantly Black, or Latin, or Asian, or any other homogenous neighborhood is the only way to try the best foods, and (most importantly) meet the best people. Like every other millennial, I have a profile on more than one dating app, but the majority of women I've met and subsequently been on dates with have been through direct meeting in Chicago, or through friends I've made. So much more could be said but as a fan of minimalism, the equation for meeting people in Chicago is simple.
WHAT IS IT?!
What is what?
Oh, yeah. You're waiting for me to reveal the big secret of the dating world! I don't know if you're ready, but here it is (spoiler: it's bipartite):
Make friends/acquaintances with everyone you meet + Maintain a positive attitude = EVERYONE INSTANTLY LOVES YOU
Okay, I know that seems over-simplified but it's one-hundred percent accurate. Not only that, but it gets even more simple! Want to meet black women or men? Ask your black friends if they have any single friends. Want to meet white women or men? Ask your white friends if they have any single friends. Want to meet nerds? Ask your nerdy friends if they have any single friends (and maybe visit the annual Comic-Cons, Anime-Cons, etc, yes I'm a nerd and I'm proud – fight me.). Want to meet ambidextrous, vegan, libertarian cabaret dancers? Ask your ambidex- you know where I'm going with this.
Admittedly, this all sounds easily said and your results will vary BUT take it from an introvert – it's worth it to converse with your work colleagues, people at the bar, and your sister's friend's cousin's mechanic to meet more people. Chicago is full of beautiful men and women of all colors, shapes, sizes, personality types, and cultures.
It's almost summertime in the Chi. Get here.