You already know the answer to that.
So…I recently got into the muck of Media Take Out to see what half-truths and gossip were being reported about black women who swirl (this publication is increasingly and obviously anti-black woman interracial dating and marrying) and found two outright lies.
The first headline: R&B Singer Keri Hilson Says . . . 'I'm GIVING UP On Black Men' . . . EXCLUSIVELY Dates White Men!!!
Except she says no such thing. Discussing how Destiny's Child group member, Michelle Williams found her rainbeau, she ruminated on the idea that she too, should open up her options. Here's actually what she said when a black guy came into her thread: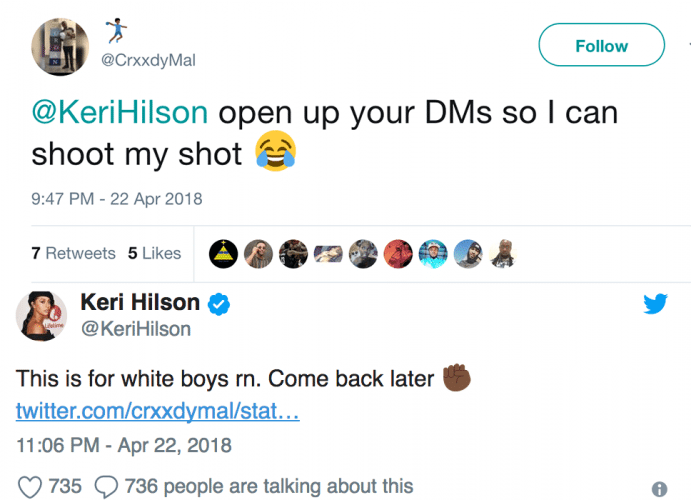 The RAG goes on to say this. And ladies I want you to note the EQUIVALENCE this publication is making in referencing black women solely dating within their race. They basically ADMIT  "ride or die" is #blackstrugglelove.
This is just days after Keri recently DISMISSED the idea of being a Ride or Die chick on Instagram as well. She said:
"The whole 'ride or die' concept rubs me wrong," she explained in a selfie caption. "Love is not a contest to see how much pain I can withstand. How many burdens of your boyhood I can carry for your comfort, despite mine. How many untrustworthy situations I can jump over, with an uncertain hope that MAYBE you'll grow out of putting us in them. How many of your satisfaction I can facilitate while mine are left unaddressed. QUEENS don't enter that s—. We gone get to this finish line with equal effort."
How can a vehicle of the media be allowed to publish such blatant bullsh*t? Are we just that low-thinking?!
THEN they have the nerve to quote Tariq Nasheed, the "pro black married to a half white woman who coined the term 'bedwench' as it relates to black women interracially pairing" as saying Michelle Williams' new fiance is a white supremacist because he "made" black children serve breakfast to police officers. My God in Heaven. I just can not. That's outright defamation. He should sue. But Media Take Out gleefully reported the news as fact, and silly, feeble-minded black folks take it and run. I am so ashamed. How can we be so gullible, so afraid of shadows and boogeymen, and so amenable to opportunistic pimps-turned pro-black-turned cheesy pop stars?
They quote Tariq:
Michelle [Williams[], do you know what you're getting into? I know it's hard out here . . . but is it that bad. Do we need to get you out of the sunken place? Do you know what kind of family you're marrying into?

Your [fiance] is team White Supremacy.
They even link to his YouTube video and say it is "WORTH WATCHING."
Who runs this POS rag?! Is this a farm for Russian trolls? How is there no consequence for these blatant lies and half-truths? These folks just say whatever the hell they want to say! Is it a blog or a news outlet?! Either way, organizations like this should not be able to lie and propagate black dysfunction without ANYONE speaking up. This is the problem with black folks. We defend all manner of foolery, as long as we're "keeping it real." Yeah. Real IGNORANT.
Related Video:
Follow Christelyn on Instagram and Twitter, and subscribe to our YouTube channel. And if you want to be a little more about this online dating thing, InterracialDatingCentral is the official dating site for this blog.