Clo Clo (the eight-year-old) was practically born with a rash. I suppose in the scheme of things–her being born 11 weeks early being a risk for a host of potential after affects, and none of them good–a perpetual eczema breakout is small potatoes since we got off so easy. She's as healthy as a horse and smart as a tack.
We've tried for eight years to harness the rash, and we can–for the most part. The Hubster and I grease her like a Christmas pig after every shower, force-feed her fish oil, and now, I'm starting to wash her clothes with my fancy detergent, Vaska.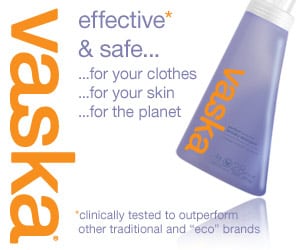 I bet you're wondering where you've seen that name before. Look to the column on your right. Yep–they advertise with us. But one thing you'll notice about BB&W is that we advertise with integrity. I endorse NOTHING that I have not tried or do not use. Therefore, you'll never see an ad for perm, Kool-Aid or KOOL cigarettes.
Grey Goose vodka?
Probably.
The point is, I try all this stuff out before I post it here, because you trust me and I take that stuff seriously.
Vaska claims their formula is so pure you can drink it. I haven't, but it smells nice. Their products are designed not to harm anything–not your clothes, your skin, or the environment. They do all this and STILL get your clothes clean. Seriously. They're the official detergent for the San Francisco Giants for crying out loud.