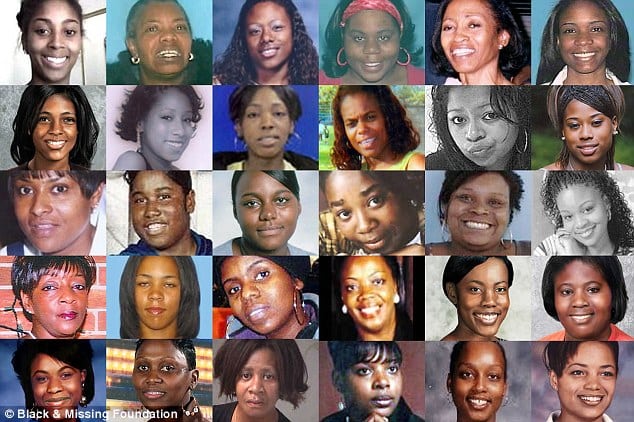 A person doesn't just disappear into thin air but you would think they do when you learn that 64,000 Black women and girls are currently missing in the United States. With nearly every cell phone having GPS, digital cameras and satellites everywhere, our digital footprint is being recorded as we speak and as we type yet whole entire human beings go missing each and everyday and unless that human is a white one, we'll probably never hear a peep about it.
Despite representing 12.85 percent of the population, black Americans accounted for nearly 226,000 — or 34 percent — of all missing persons reported in 2012, said an article by Identities Mic, citing FBI figures.

According to the National Crime Information Center, more than 270,000 minorities have been reported missing since 2010, half of them African Americans. Black women and girls comprised more than 64,000 of the missing reports.

The Black and Missing Foundation has also documented the disappearances of these women. [Source]
Black women get less face time on mainstream media, which is nothing new, the limited available Black publications have been covering this trend for years if not decades. With the advent of technology and easy break through to publishing I can't help but to wonder what kind of impact could be made if we began to use the tools that we have available to us to promote our own urgent causes.
"If you Google 'Natalee Holloway,' how many impressions would you get?" Black and Missing cofounder Natalie Wilson told ABC News last year. "If you Google 'Unique Harris,' who's missing from D.C., the story is not the same."

The reasons: Natalie and her sister Derrica Wilson started the Black and Missing Foundation in 2008 specifically to raise awareness and provide resources, advocacy and pressure around this issue. Derrica has a background in law enforcement. Among the reasons she cites for disproportionate black disappearance figures are poor training and dismissive attitudes.

"I spent six months at the Northern Virginia Criminal Justice Training Academy in Ashburn, Va., where we had only two hours of training on missing persons cases," she told Essence. "In the field, I've seen a majority of black missing children classified as runaways, who don't get Amber Alerts."

Plus: "For black adults, police usually link their disappearances to criminal activity, so they aren't valued as much. Training needs to be enhanced so police forces know how to handle these cases."

Natalie told the Daily Mail that lack of newsroom diversity also skews the way black missing persons are covered by the media. And while the plight of missing black women has received more coverage of late (albeit notably through international cases, like the 276 Nigerian girls kidnapped by Boko Haram in April), it's still not nearly at a conscionable level. [Source]
I'm a firm believer that we, Black women, and women in general will continue to receive poor social treatment as long as we sit on our gender and wait for others to do what we could do for ourselves. There is no shortage of Black women in technology, no shortage of young people with cell phones. There is no shortage of citizens minding each other's business, so when are we going to decide to do something about the abuse we suffer?
That white knight hasn't gotten here yet, and with brown female human bodies disappearing into thin air we have to ask ourselves, is waiting for the cavalry a smart move or should we do what we can to save each other before it's too late?
Here are some interesting missing person projects I found around the web:
Help Me Home provides encoded GPS bracelets to be worn by children or adults who may be incapable of communicating in the event they are separated from friends and family. It is a satellite program in Oregon based on their current missing persons program, Project Lifesaver (for nursing home residents) though at $20 for each two year membership, it is cost efficient and easily implemented into current police protocol. The bracelet's radio signal will emit over one mile.
The National Center for Missing and Exploited Children is the clearinghouse that publishes Amber Alerts to local law enforcement and social media platforms. There is plenty of information available for your research and reading including articles about sex trafficking, family abductions and runaways.
Find Your Missing Child is a grassroots campaign began by one man who created a booklet to be followed by parents and law enforcement that helps teach them how to use social media to advocate on behalf of missing children.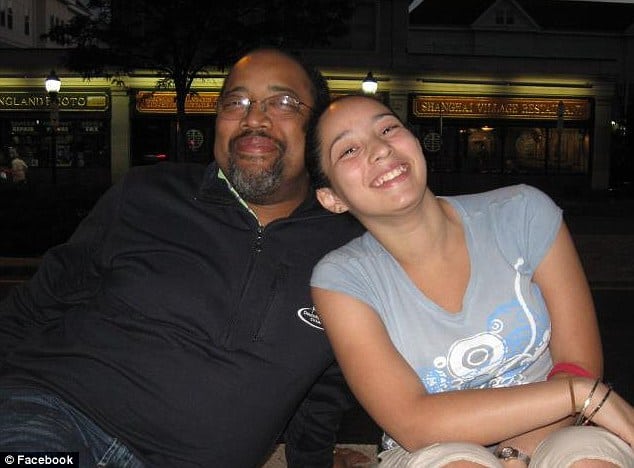 In November 2011, Tony Loftis's 13-year-old daughter ran away from their suburban hometown of Wayland, Mass. She was last seen boarding a Peter Pan bus to New York from downtown Boston, and Loftis assumed she'd headed to Brooklyn where his daughter had frequently visited family.

Not a stranger to social media, Loftis took it upon himself to spread word that he was looking for his daughter on email, Facebook, Twitter and LinkedIn.

"We tweeted the heck out of it," Loftis told Mashable.

After a few days, Loftis' story was picked up by The Huffington Post, the New York Daily News, the Boston Herald and four TV stations. On day 12, following a live TV appearance, Loftis received word his daughter had been found living with a sexual predator in Jersey City.

"Once we found my daughter, got her situated and started her in the recovery process, we wanted to organize a way to help parents of missing children use social media," Loftis said. "There certainly was a gap in missing persons organizations' knowledge. They weren't skilled in how to use social media, so we started writing the document."

Loftis, with the help of others, completed a 24-page guide to using social media to find missing children in September 2012. Later, he launched the organization Find Your Missing Child, which he now works on full time. [Source]
We can all hope to never have to need this information but you can't ever be certain. Keeping informed and vigilant about your loved ones is the first step in mitigating the damage in the event that you must look for a missing person.