Alas, there were new episodes of The Bachelorette this week, but that's good for me, because I've been running behind, what with all the planning for Swirl Around the World. Rachel dumped a lot of dead weight, including the racist, conniving (general) Lee, busy-body Iggy, overly emotional and triggered Kenny, the Russian (what's his name?) and Will.
Will was the most interesting dump to me, because it highlighted something that middle to upper class black girls and women often face with dating.
https://youtu.be/6_JvYPQlbMY
During their one-on-one date, Will mentioned in passing that he had never dated a black woman because he lived in a white neighborhood and dated the girls that were around. You could tell Rachel wasn't buying it. She'd been raised in the same kind of neighborhood he did, and stated that even surrounded by whites, she exclusively dated within her race.
On the surface, you'd think two privileged black kids would be perfect matches for one another–the makings of an Obama couple. But that's hardly ever the case in these situations.
About three years ago Ebony did a surprising feature on the state of interracial relationships. It was mostly optimistic, and mentioned 15% of all new marriages are interracial. But the article also said there's still major disparities when it comes to mixed matching. Black boys are the "rock stars" of swirling in the teen crowd, while black girls struggle just to be seen.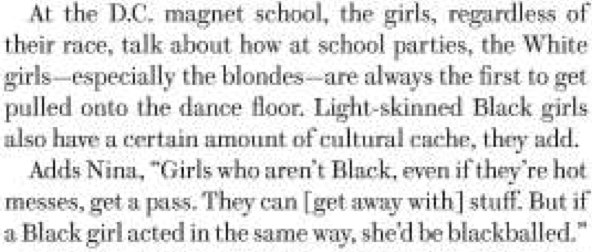 So again, no surprise that Rachel had a totally different dating experience than Will. I loved the way she called him on it and didn't let it slide–essentially allowing for the conversation to be had on a national level. While Will was bragging about how "passionate" he ways, Rachel said, You wouldn't hold or kiss me" which left her wondering, why she, a black woman, wasn't getting that from him.
He didn't have a good answer for that, and Rachel next-ed him. Love that she's not wasting her time on posers of any race, but also loving how her situations bring to light issues we've been struggling with since integration.
Follow Christelyn on Instagram and Twitter, and subscribe to our You Tube channel. And if you want to be a little moreabout this online dating thing, InterracialDatingCentral is the official dating site for this blog.