I just finished up my first week in London, and all I can say is this: I WAS MEANT TO BE HERE.
But I must admit,  the week leading up to my trip, I felt everything but excitement. I felt nervous and scared for what lay ahead of me.
But as I sit here on the couch with my feet aching, it's hard to believe how much I have been through in just one week. And the blisters on my feet prove it.
When I first got out of the airplane, it was easy to see and hear the immense amount of culture that lay within the city, and all the aspects of it that I would be able to discover. I was in a city where I'd be able to experience a diverse amount of cultures while communicating in the language I had spoken my whole life. What can be better than that!?!
So of course you can imagine my excitement when I took a look outside the coach, and saw that in addition to that I'd be living here for the next 3 months: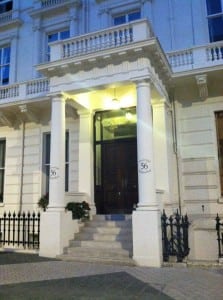 While walking down streets like this daily: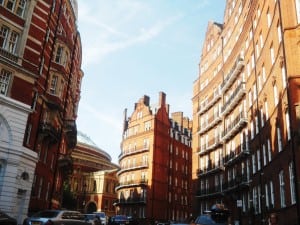 A lot of people assume that because the Americans and British both share English as a common language, they are almost identical in terms of culture. But this couldn't be any more wrong.  Here are five differences that I already need to get accustomed to:
Any sort of combo is an American thing: Imagine my disbelief when I went to Subway and ordered a sandwich, chips, drink, and cookie, only to find out that I had to pay for all of these Items separately. Not to mention the fact that I learned that I wouldn't be getting salt and vinegar or avocadoes, because that too was only an American thing.
Sadly, the dollar is worth nothing here: And that doesn't mean that it is made up for with cheaper prices. Every time I buy something here, I need to remember that I'm really paying double. Including that Subway sandwich, hahaha.
Apparently cold drinks are also uncommon here: I went to a café and ordered orange juice, and was pleasantly surprised when I saw the waiter squeezing the oranges for my drink in front of me. But when I asked him to put ice in it (because it was lukewarm) he had no idea what I was talking about.  The same thing happens when I ask for ice in my water. Funny right?
Here going to a club isn't synonymous with outfits made exclusively out of spandex: THANK GOD. Because with a derriere like mine, I can't be bothered with pulling down my dress all night. Here they dress in a sexy/classy way when they hit the town. It isn't odd to wear a cute dress with tights or something that is leaving something to the imagination. And this means the guys treat you a lot better when you go out. Shocking concept, right??
The guys here no how to dress. It isn't strange to see men (and teens) wearing a nice shirt, tucked in to a nice pair of jeans or pants with nice shoes to complete the look. Here that is what it means to have 'swag' .  Which if I must say, is very nice to look at 😉
Right now I am completely content with my life, and I am excited for all of the experiences that await me here.  Every day I have to pinch myself to make sure my life is real.
*** I just celebrated my 19th Birthday here, which was an experience all in itself. So much so, that it needs its own article 😉 So cheers until next time!