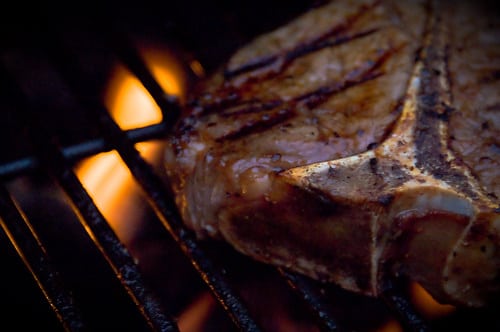 For most of the country, the grilling season will be ending soon. Those of you who are lucky enough to be able to grill all year around, these are the perfect grillers. T-bones (or porterhouse if you prefer) have the most succulent, juicy, steak flavor you have ever tasted, served with Easy Spicy Roasted Potatoes shown below, roasted corn or grilled vegetables this will complete the perfect meal for an outdoor event. You're favorite beverage, a few friends and good food. What more could anybody ask for?  Maybe, just another cold beer.  Be hungry my friends.
 Servings: Serves 6.
Prep Time: 15 mins
Total Time: 4 hrs. 23 mins
Ingredients
1 cup chopped onion
3/4 cup chili sauce
1/4 cup parsley
1 tablespoon Worcestershire sauce
2 teaspoons brown sugar
1/2 teaspoon paprika
1/2 teaspoon ground black pepper
3 beef T-bone steaks, cut 1 inch thick (about 1 pound each), or 6 beef top loin steaks, cut 1 inch thick (about 1-3/4 pounds total)
1 to 1-1/2 teaspoons cracked black pepper
Fresh herbs (optional)
Directions
1. In a large glass baking dish combine onion, beer, chili sauce, parsley, mustard, Worcestershire sauce, brown sugar, paprika, and the 1/2 teaspoon pepper. Place steaks in marinade. Cover and refrigerate 4 to 6 hours or overnight, turning steaks over occasionally.
2. Remove steaks from marinade; discard marinade. Sprinkle both sides of steaks with the cracked black pepper.
3. Grill steaks on an uncovered grill directly over medium-hot coals for 5 minutes. Turn and grill to desired doneness, allowing 7 to 10 minutes more for medium (160 degrees F) doneness. If desired, garnish with fresh herbs.  Serves 6.
 Easy Spicy Roasted Potatoes
A subtle blend of spices, olive oil, and cheese take any meat to the next level of satisfaction. Best served with grilled meats, these potatoes enhance any meal to astronomic levels.
Ingredients
10 medium red potatoes, washed, diced about a half inch square with peel
1 medium onion, chopped
1 tablespoon granulated garlic
1 teaspoon basil, crushed (if you prefer, use Italian blend mix, crushed.)
1 tablespoon kosher salt
Freshly ground black pepper to taste
2 teaspoons cajun seasoning mix
1/4 cup extra virgin olive oil
1 cup shredded Cheddar cheese (optional)
Directions
1. Preheat the oven to 450 degrees F
2. Arrange the potatoes and onions in a greased 9×13 inch baking dish, larger if needed so that they are evenly distributed, then season with garlic powder, salt, pepper and chili powder. Drizzle with olive oil. Stir to coat potatoes and onions with oil and spices.
3. Bake for 35 to 40 minutes in the preheated oven, or until potatoes are fork tender and slightly crispy. Stir every 10 minutes. When done, sprinkle with cheese. Wait about 5 minutes for the cheese to melt before serving.