This has got to be about the stupidest thing I've heard a West Coast police department do in a sea of people who mate and marry interracially more than virtually any other place in the country.
Daniele Watts, who played "CoCo" in the hit movie, Django Unchained, was detained by Studio City police after they observed her exchange affections with a white man, who also happened to be her partner (some news reports are saying the man was her husband, but his Facebook page indicates that they are in an open relationship.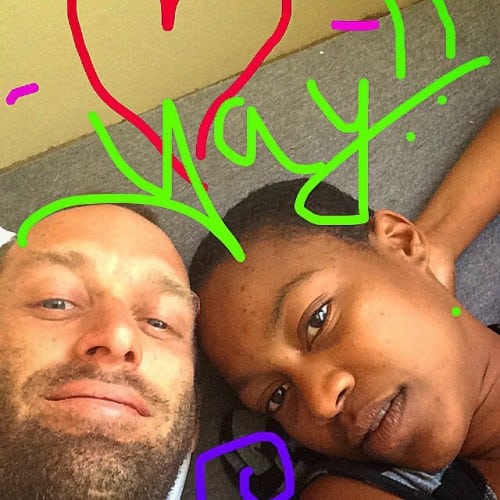 It's amazing that in this day and age, with 15% of all new marriages reported as interracial, we still have people who seem to find that a white man married to a black woman is unfathomable.
Look at the utter humiliation: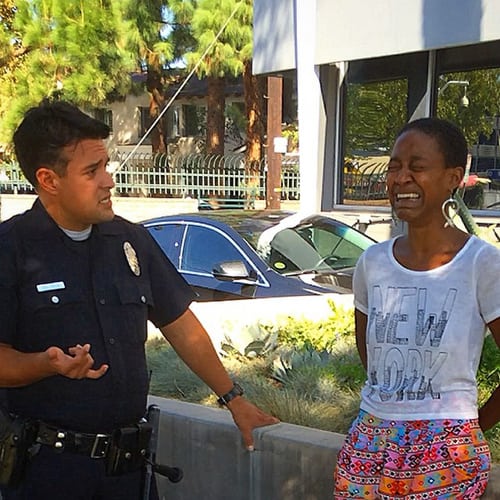 Danielle was handcuffed because she refused to give identification, with according to reports, she is well within her rights to do so. But let me ask you, is there anything AT ALL in this woman's clothes or demeanor that would indicate that she is a prostitute? Oh; I guess it was just the whole, her kissing a white man thing.
She speaks candidly of her experience on her Facebook page:
Today I was handcuffed and detained by 2 police officers from the Studio City Police Department after refusing to agree that I had done something wrong by showing affection, fully clothed, in a public place.
When the officer arrived, I was standing on the sidewalk by a tree. I was talking to my father on my cell phone. I knew that I had done nothing wrong, that I wasn't harming anyone, so I walked away.
A few minutes later, I was still talking to my dad when 2 different police officers accosted me and forced me into handcuffs.
As I was sitting in the back of the police car, I remembered the countless times my father came home frustrated or humiliated by the cops when he had done nothing wrong. I felt his shame, his anger, and my own feelings of frustration for existing in a world where I have allowed myself to believe that "authority figures" could control my BEING… my ability to BE!!!!!!!
I was sitting in that back of this cop car, filled with adrenaline, my wrist bleeding in pain, and it occurred to me, that even there, I STILL HAD POWER OVER MY OWN SPIRIT.
Those cops could not stop me from expressing myself. They could not stop the cathartic tears and rage from flowing out of me. They could not force me to feel bad about myself. Yes, they had control over my physical body, but not my emotions. My feelings. My spirit was, and still is FREE.
I will continue to look any "authority figure" in the eye without fear. NO POLICE OFFICER OR GOVERNMENT OFFICIAL IS MORE POWERFUL THAN ME. WE ARE EQUALS. I KNOW THAT I WILL ALWAYS BE FREE BECAUSE THAT IS THE NATURE OF MY SPIRIT.
And moreover, I deeply enjoyed connecting with the cops who detained me. I allowed myself to be honest about my anger, frustration, and rage as tears flowed from my eyes. The tears I cry for a country that calls itself "the land of the free and the home of the brave" and yet detains people for claiming that very right.
Today I exist with courage, knowing that I am blessed to have experienced what I did today. All of those feelings, no matter how uncomfortable. These feelings are what builds my internal strength, my ability to grow through WHATEVER may happen to me.
That internal knowing is what guides me in this world. Not the law, not fear, not mistrust of government or cops or anything else.
In this moment there is a still small voice whispering to me. It says: You are love. You are free. You are pure.
Oh and I LOVE how Danielle's husband stood up for his woman!! He's all over her and his pages telling folks what's up! They're also in the process of getting the lawyers involved. Good for them.
And…this is also a reminder of what I warned you about before when I did the Eric Garner coverage, and some of you expressed ZERO interest. I told you then, and I tell you now, abuse of police authority doesn't just affect black men, but EVERYONE is vulnerable–especially minorities. But you go ahead and keep thinking you'll be cool….