Egg  Drop Soup

Original recipe egg drop soup makes 1 quart of soup.  Egg drop soup literally "egg flower soup") is a Chinese soup of wispy beaten eggs in boiled chicken broth. Condiments such as black pepper or white pepper, and finely chopped scallions and are also commonly added. The soup is finished by adding a thin stream of beaten eggs to the boiling broth in the final moments of cooking, creating thin, silken strands or flakes of cooked egg that float in the soup. Egg drop soup using different recipes is also known as a simple-to-prepare soup in different European countries and Japan.
By Chef  Xui Li, a co worker of mine from years past.
4 cups chicken stock
3 cups hot water
1 tablespoons cornstarch
1 tablespoons soy sauce or to taste
2 tablespoons distilled white vinegar
1 green onion, minced (save a few pieces of the tops for a garnish.)
3 eggs, beaten
Salt and pepper to taste
Directions
In a large saucepan, bring stock to a boil. Mix cornstarch with a small amount of water, and stir into bouillon. Add soy sauce, vinegar, and green onion. Bring to a boil, then simmer, stirring occasionally. Gradually pour the beaten eggs into the saucepan while stirring. Serve at once.
Chinese Spareribs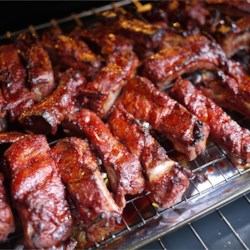 After searching for a good, easy Chinese Spareribs recipe and not finding any that caught my eye, I decided to make my own. This recipe is pretty simple, and yields tender, juicy, tangy ribs.  I cooked this in the fish broiler, but it should be fine on the grill or in the oven."
Ingredients*
5 tablespoons hoisin sauce
4 tablespoon ketchup
3 tablespoon honey
5 tablespoon soy sauce
3 tablespoon sake
5 teaspoon rice vinegar
3 teaspoon lemon juice
2 teaspoon grated fresh ginger
1 1/2 teaspoon grated fresh garlic
1/2 teaspoon Chinese five-spice powder or to taste
4  pork spareribs or baby backs (I used St Louis style)
Directions
In a mediumdeep glass dish, mix together the hoisin sauce, ketchup, honey, soy sauce, sake, rice vinegar, lemon juice, ginger, garlic and five-spice powder. Place the ribs in the dish, and turn to coat. Cover and marinate in the refrigerator for 2 hours, or as long as overnight.
Preheat the oven to 325 degrees F (165 degrees C). Fill a broiler tray with enough water to cover the bottom. Place the grate or rack over the tray. Arrange the ribs on the grate.
Place the broiler rack in the center of the oven. Cook for 40 minutes, turning and brushing with the marinade every 10 minutes. Let the marinade cook on for the final 10 minutes to make a glaze. Finish under the broiler if desired. Discard any remaining marinade.   These can also be finished in the grill, for that smoky BBQ taste.
**This recipe can be doubled, tripled or even more as you desire.  Heat and seasonings can also be adjusted, although these are supposed to be spicy hot.