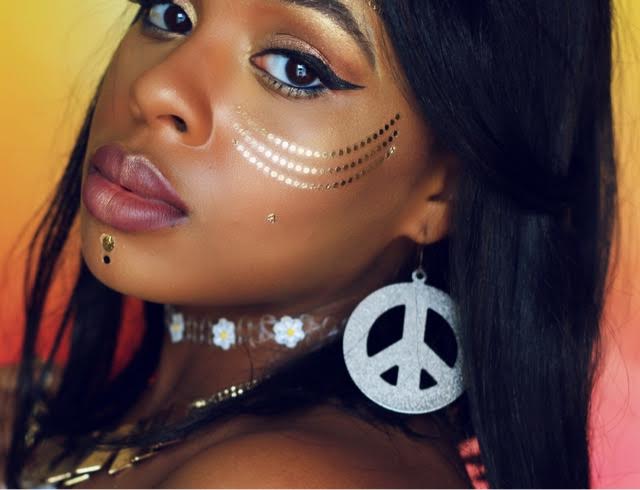 Today I wanted to share with you a fun and creative makeup tutorial especially if you are feeling like going bold for a day! This makeup look can actually be great without the flash tatoos  and just as a glam look too! So I hope you all enjoy and let me know what you think!
How to Get the Look!
Step 1: Prime the lid with a cream eyeshadow in gold.
Step 2: Place a  pigmented gold eyeshadow all over the lid

Step 3: With a brown eyeshadow I deepened the crease and outer corner and blended everything out.
Step 4: With a copper shade of eyeshadow I added dimension in the outcorner and into the crease.
Step 5: With a white eyeliner I covered my waterline all the way to the tear duct.

Step 6: I then with an angled brush and the same gold eyeshadow covered up the white eyeliner to make the eye shadow pop
Step 7: I then went and outlined my bottom waterline with a navy eyeliner just half way
Step 8: I tight lined my upper waterline with the same eyeliner
Step 9: Create a cat eye
Step 10: I added that same brown just below my eyebags for more definition
Step 11: Highlight
Step 12: I filled my lips in with a dark plum
Step 13: I added a mauve matte liquid lipstick to the center and blended it out.
Step 14: I added a lighter taupe shade of matte liquid lipstick to the center and blended it out too.
Step 15: Add your flash tattoos and anything extra and you are ready to go partayyyy!
What other videos would you love to see!
Follow Jasmine (aka Color U Bold on her blog here, on Twitter here, and Instagram here.