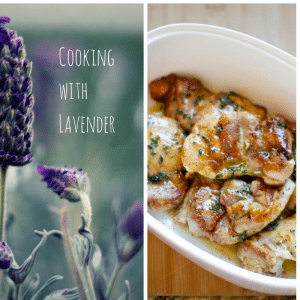 When I think of lavender, I think of lotions, soaps and scrubs. I sometimes forget that lavender (particularly English lavender) is used as a culinary herb to enhance the flavor of chicken (a la herbs de provence). As many of you know, I've challenged myself to grow an epic "beauty garden" full of fresh organic vegetables and herbs. I'm growing two types of lavender–Provence and Anouk (pictured). I bought the lavender because I plan on making my own herbs de provence and whatever else I can eat with it.
Lavender gives a refined flavor and fragrance to chicken, and works well with honey, lemon and thyme, which is the base of the glaze that I created to spruce up some boring boneless, skinless chicken thighs.
Most lavender is edible, but some taste a little bit more medicinal than others. I tried Anouk this time, but I'll probably try my Provence lavender next time.
Wanna try it yourself? The process is simple.
Honey Glazed Chicken with Lavender and Thyme
1 lb of boneless, skinless chicken thighs
salt
pepper
1 tsp dried lavender flowers (in fairness my lavender was plucked right from the bush–I just crumbled it in)
1 tsp dried thyme
2 tbsp honey
4 tbsp olive oil
1 tbsp lemon juice
1 tbsp softened butter plus a tad more for searing
To prepare:
Preheat over to 375 degrees
Sprinkle the thighs with salt and pepper to taste. Warm up a skillet on medium/high heat, with olive oil and a tab of butter. Sear the chicken until golden brown..between 4-6 minutes each side.
Mix the lavender, thyme, honey, olive oil, lemon juice and softened butter into a bowl to create the glaze. Add salt and pepper according to taste, or  add a little more or less of the other ingredients until you get it the way you like it.
Arrange the chicken in a casserole dish and drizzle the glaze on top. Cook for 20 minutes in the oven and serve with rice.
Enjoy!