Of course we all know about the recent passing of Karyn Washington, and her work to encourage black women to love their shade and her #DarkSkinRedLipProject, a poke in the eye to some folks in the black community to say black women have no business wearing red lipstick unless they pass the paper bag test.
Picking up the mantle on this is blogger, Keiko Kaveri, who restarted her #NoBareLips30 campaign in homage to Kayrn.
From Madame Noire:
After A$AP Rocky's outlandish remarks about black women wearing red lipstick last year and even black women coming for other black women who choose to wear various bright shades of lip color, I began to question my own views of wearing lipstick. I was convinced for years that I looked like a clown or a crime scene in red lipstick and that maybe, as a a black woman, those shades just weren't for me. However, after a conversation with Keiko about #NoBareLips and its success last year, I decided to begin purchasing simple drugstore brands and looking for shades that complimented my skin tone. The initial discomfort I felt quickly faded after I posted a few photos and received such great feedback from other women of color. My confidence in wearing lip color has grown and so has my stash of lipsticks!

With seemingly everyone policing the bodies of black women so closely and viciously, it is easy to want to give up on defining our own beauty standards. There is always an article, a rap lyric, or a debate about how we should look. If we choose to apply makeup, others expect a reason other than us wanting to look good and feel good for ourselves. We hear " some black women shouldn't wear this," "some black women look crazy wearing that," all the time. Those baseless and oppressive critiques were the exact reason why Keiko thought up #NoBareLips30:
Here's the rules of the challenge:
If you use social media and would like to participate in the Spring 2014 edition of #NoBareLips30 here are some of the details: #NoBareLips starts on April 28, 2014 and ends on May 27.There will be a calendar and you will need a red, a pink, a brown, a nude, and a bunch of fun shades! You don't have to post every day. Use the hashtag: #NoBareLips30 and please unlock your accounts for the thirty days (Twitter, Instagram, Facebook are the most popular social networks for this challenge). Have fun!
I'm beyond TIRED of color-struck black folks on a mission to kill any sense of beauty dark skinned women try to aspire to. No weaves, because that's fake. But we also hate your nappy, natural hair. Red lips make you like like a clown's whore. Dark women's features don't show up well on camera, and that's why we use the light ones. You're using lighting and a flash for your portrait? You're trying to make yourself lighter!!! You're pretty…for a dark girl.
Who else beside me is DONE?!
Here's my submission…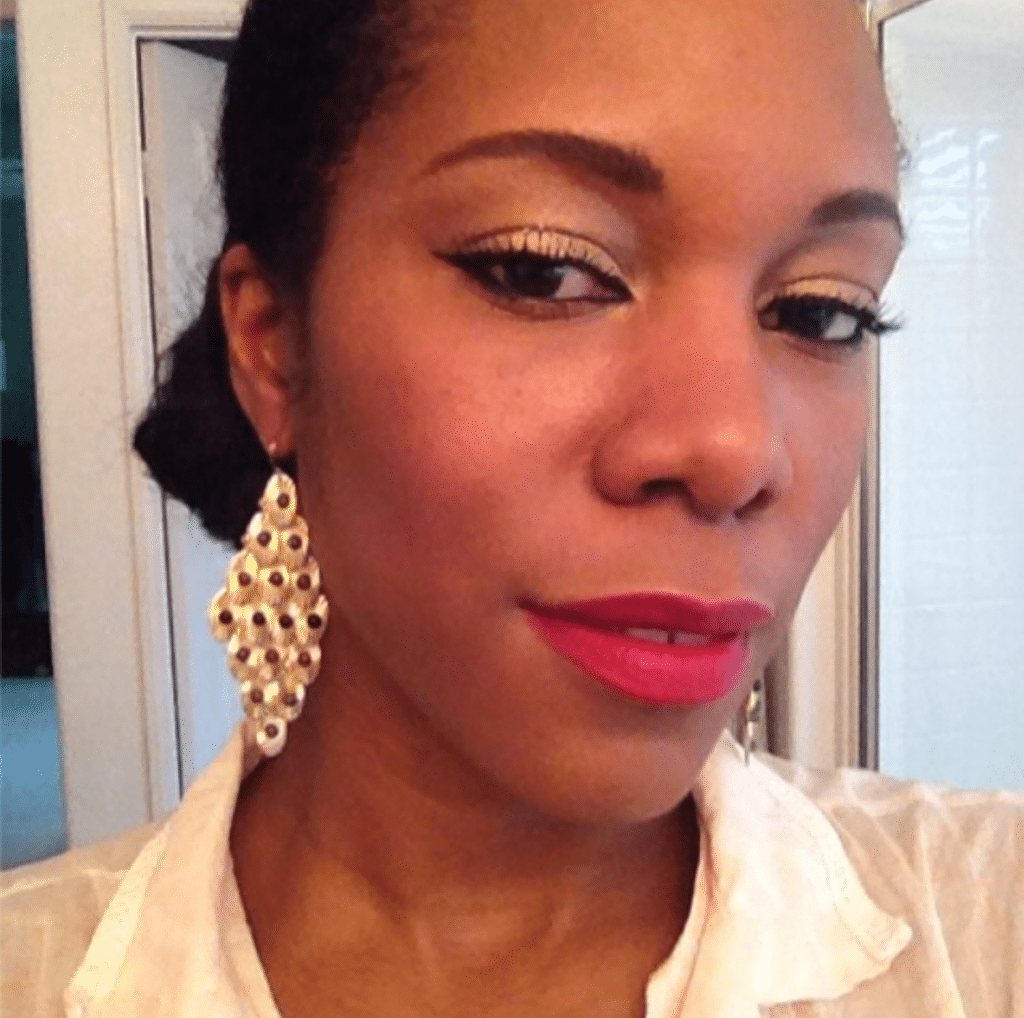 In case you'd like to know, I'm sporting CAILYN's "Big Apple" lip stain. As you can see, it's amaze balls.