Diabetes is a nationwide problem. It can affect anyone, regardless of race, color or creed, age or sex–but African Americans are particularly vulnerable to the disease. Even if you don't have diabetes, there is no reason you still cannot enjoy delicious comfort food. Below is a recipe I developed with the aid of the ADA, and several friends who suffer from this. Also included are the food exchanges for your information. Please help find a cure for this terrible disease.
Smoked mozzarella and spinach are rolled into chicken breasts that are coated in bread crumbs for this main dish recipe, which is perfect for entertaining.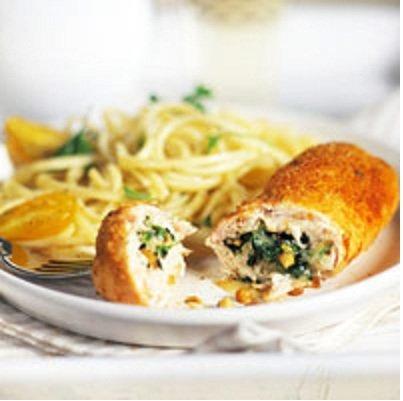 YIELD: 6 chicken rolls
PREP TIME:  65 minutes COOKING TIME: 25 to 30 minutes. (170 F on a meat thermometer)
CARB GRAMS PER SERVING: 6
Nutrition Facts per Serving:
Calories: 274
Protein(gm): 35
Carbohydrate(gm): 6
Fat, total(gm): 11
Cholesterol(mg): 77
Saturated fat(gm): 3
Dietary Fiber, total(gm): 1
Vitamin A(IU): 1895
Vitamin C(mg): 4
Sodium(mg): 368
Calcium(DV %): 182
Iron(DV %): 1
Diabetic Exchanges
Vegetables(d.e): 2
Very Lean Meat(d.e): 5
Fat(d.e): 1

6 skinless, boneless chicken breast halves (1 1/2 pounds)
Salt
Black pepper
1/4 cup finely chopped shallots or onions
1 clove garlic, minced
2 teaspoons olive oil
1/2 10 ounce package frozen chopped spinach, thawed and well drained
3 tablespoons pine nuts or walnuts, toasted
3/4 cup shredded smoked mozzarella cheese (3 ounces)
1/4 cup seasoned fine dry bread crumbs
1/4 cup grated Parmesan cheese
1 tablespoon olive oil
1. Place 1 chicken breast half between 2 pieces of plastic wrap.  Pound lightly with the flat side of a meat mallet into a rectangle about 1/8 inch thick.  Remove plastic wrap.  Season with salt and pepper. Repeat with all chicken breasts.
2. For filling, in a medium skillet cook shallots and garlic in the 2 teaspoons hot oil until tender.  Remove from heat; stir in spinach, nuts, and smoked mozzarella.  In a shallow bowl combine bread crumbs and Parmesan cheese.
3. Place 2 to 3 tablespoons of filling on each chicken breast.  Fold in the bottom and sides; then roll up.  Secure with wooden toothpicks.
4. Lightly brush each roll with the 1 tablespoon olive oil; coat with bread crumb mixture.  Place rolls seam side down in a shallow baking pan.  Bake, uncovered, in a 400 degrees F; oven about 25 minutes or until chicken is no longer pink (170 degrees F).  Remove toothpicks before serving.  Makes 6 chicken rolls.
This can be served with baked or mashed white or sweet potatoes or rice pilaf, and brocollirob.  An excellent choice when the Boss arrives unexpectedly for dinner.