Some of your favorite IR novelists got catapulted to main stream a few days ago when they were featured on USA Today. The line up for the Scandalous Heroes collection!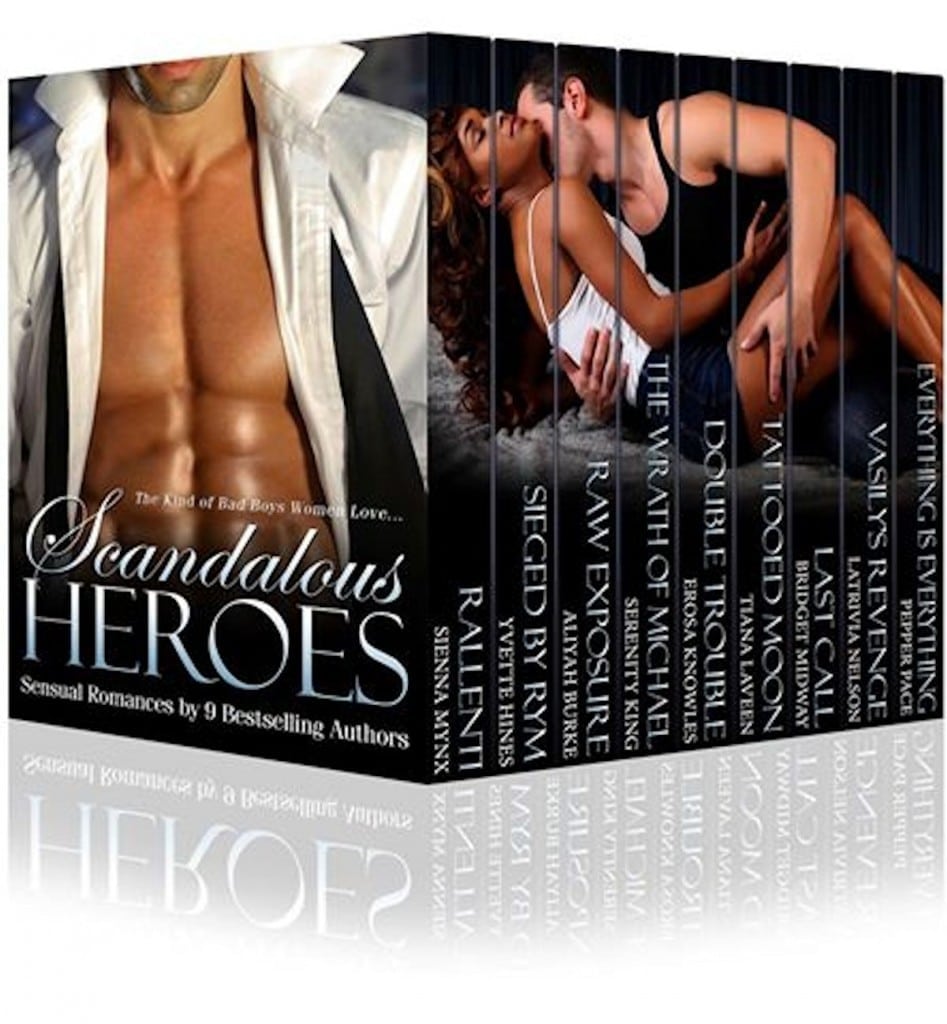 Except:
Nine authors — Sienna Mynx, Latrivia Nelson, Pepper Pace, Bridget Midway, Serenity King, Aliyah Burke, Tiana Laveen, Yvette Hines, Erosa Knowles — offer up a great array of stories with the common theme of "scandalous heroes." From the sensual to the erotic, these men represent all backgrounds with passion for life, passion for their women and hearts big enough to fall in love.
These nine great stories have something for every taste — alphas, shifters, Doms, billionaires, blue-collar hunks and urban heroes. Stories include Raw Exposure by Aliyah Burke, Vasily's Revenge by Latrivia Nelson, Double Trouble: Men of 3X CONStruction by Erosa Knowles, Tattooed Moon by Tiana Laveen, Last Call by Bridget Midway, The Wrath of Michael by Serenity King.
In addition, I have to give a few shout-outs for these captivating stories: Rallenti by Sienna Mynx with its Sicilian enforcer, Renaldo Cracchiolo, and his sexy and beautiful shoemaker, Kyra Okeeno. Great introduction to the Battaglia Mafia series with fast-paced, vibrant and sexy romance, coupled with a great cast of characters that add the right amount of drama, humor, and suspense.
Everything Is Everything by Pepper Pace surprised me because it wasn't the run-of-the-mill romance. Pace's creatively unique style had the power to pull me into the lives of these teens. Set in the '70s, neighborhoods, lives, and individual consequences collide. These young adults have grown-folk-size issues to deal with on a daily basis, and yet, their hearts still seek love and hope. A truly compelling tale with a cliffhanger ending, but the emotional investment is solidly there at the end of the story.
Sieged by Rym by Yvette Hines is a wickedly sexy brew of paranormal, science-fiction and erotica. The battle of the sexes feels like a tennis match between the elite — thanks to Hines' artistry with suspense and sexual tension.