When Dylan sent me a seemingly random friend request about a year ago, I was curious. A quick glance at his stats–a cute lawyer from Austin–and I first thought he was hitting me up to be added to our private singles group. I would soon learn that Dylan was doing his due diligence in what his vocation taught him to do: research, research, research. He wanted to know everything there was to know about dating black women, because of one very special woman in particular.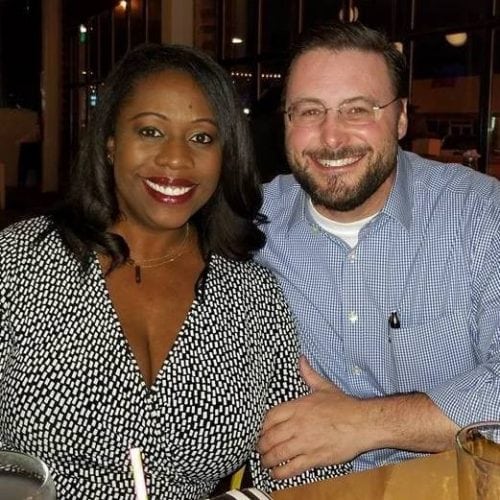 Dylan met Kimberly over 17 years ago while they were both in law school. He was captivated by her beauty and smarts and loved opportunities to work with her. But there was a problem–he was married with a kid on the way. A relationship with Kimberly wasn't going to be in the cards.
Nearly two decades later, Dylan, now divorced, reconnected with Kimberly through professional affiliations with the state bar. This time around, nothing was stopping him from pursuing what he really wanted.
Dylan arranged lots of "lunches" so he could get close to Kimberly. But she thought he was just being nice. "I had to step up my game!" he recalls.
So he asked her out to dinner and laid himself bare and confessed his feelings. Kimberly was open to the possibilities, and the rest is history–literally. Just a few days ago Dylan proposed to Kimberly at the United States Supreme Court where 51 years ago, Richard and Mildred Loving fought and won to legalize interracial marriage.
She said yes!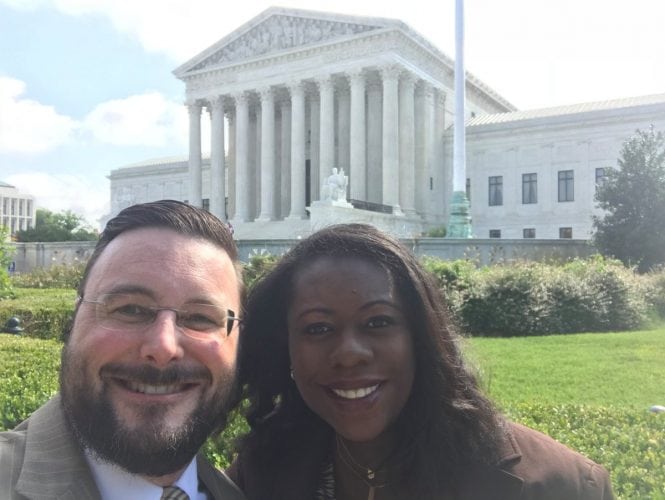 But…their engagement has been met with mixed reactions. Some members of his family have deeply disappointed him with the revealing of their bigotry. He never thought his family had these opinions, but Dylan supposed that they are okay with interracial marriage when it's "another family," just not theirs. 
Dylan isn't letting that discourage him, and nothing and no one is going to steal the joy he feels at finally marrying the woman of his dreams. Kimberly's family has been supportive and have embraced him as a son. Probably earned some cool points when he stated his intentions to her father, just like a man of quality does.
He's now 42 and Kimberly is 40, and they are looking forward to starting a family together. They are currently looking into supportive, diverse areas where they can raise their future kids.
Related: Interracial Friendly States, City by City, County by County!
Get the Deal: Psst. If you're ready to see what potential it is for you to be in an interracial relationship, click this link to get 25% off Match.com.
Follow Christelyn on Instagram and Twitter, and subscribe to our YouTube channel. And if you want to be a little more about this online dating thing, InterracialDatingCentral is the official dating site for this blog.