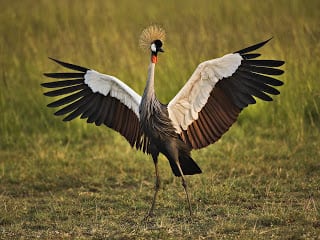 The Caged Bird and the Free Bird
Once upon a time, there was a caged bird who would get weekly visits from a free bird. The free bird would fly far and wide. When it was done with its travels, the free bird would come back and tell the caged bird all about the world and its experiences. For awhile, the caged bird was content with these visits. However, one sunny day the caged bird thought, 'I want to go and see all these marvelous things for myself!' When the free bird came back again, the cage bird said, "I had the most wonderful idea when you were away! I was thinking that you could let me out. Then I could fly away! Wouldn't it be great? I would be free, and you wouldn't have to come here and tell me about the world. I would see it for myself." The free bird hesitated for a moment, appearing startled. Then it said, "Well, that sounds nice. But if you leave, who will I come visit?
You don't understand how great it is to be able to rest after all my travels. And it's so good to talk to you about what I see. No one else out there understands me." "I'd understand you better if we were both free." "Oh, but I'm not free," laughed the free bird, "not exactly. You see, caged bird, there are so many dangers I have to constantly flee from. There are hunters, foxes, and bigger birds that would love to eat me. I don't tell you about these dreadful things because I don't wish to frighten you." The cage bird felt mildly indignant. "Even if there are hunters, foxes, and bigger birds as you say, what makes you think I couldn't avoid them? After all, you seem to be able to. Clearly there must be a way to stay safe while being free." The free bird insisted that it knew the world better and that a caged bird wouldn't know what to do with itself. "Let's just keep things the way they are," the free bird said in a sympathetic tone before flying away.
But this did not ease the mind or heart of the caged bird. Each time the free bird visited, the caged bird would plead with it to open its cage door so that it could fly away. And each time the free bird would refuse. Eventually the caged bird and free bird began to resent each other. The caged bird couldn't understand why the free bird wouldn't help it. After all, weren't they both birds? The free bird couldn't understand why the caged bird didn't enjoy its stories anymore. Why couldn't it just be happy with the way things were?   The day soon came where the caged bird decided it'd had enough of the free bird. When the free bird came again, the caged bird said, "Turn right around and fly away! I don't want to hear your stories, anymore. I don't want to see your trinkets. If you're not letting me out of my cage, it means you're not my friend!"
The free bird was indignant. "I am your friend! What kind of friend would I be if I let you go off into a world I know is dangerous because I've been in it? I can't believe how ridiculous you're being! I remember when you used to be so happy to see me, so supportive of my endeavors. Well, I see now what kind of friend you are!" The free bird then declared it would not come again until the caged bird got all "the ludicrous notions" of leaving its cage out of its head.
Before long, the caged bird began to panic. As the weeks passed without any sign of the free bird, it began to wonder if it had been too harsh. What if free bird wasn't coming back at all? What if it was going to be left all alone forever? From that moment onwards, the caged bird began to sing a sad song all day long.
One afternoon while the caged bird was in the midst of singing about its woes, it heard a gentle thump on the windowsill. It turned, expecting to find the free bird. Instead, it saw the house cat. After a minute or so of glaring at the caged bird, the cat declared, "I have grown tired of listening to your ghastly squawking all day and night, so I am going to tell you something." Leaning in closer to the cage, the cat said, "The door has been open this entire time. All you had to do was push it hard enough and you could have gotten out whenever you wanted." The caged bird couldn't believe it. "How would you even know something like that?" "Well," drawled the cat, "it's none of my business, but I heard some birds laughing about it in a tree some time ago. One of them said they thought it was the most hilarious thing to tell you anything they wanted to about the world and that you would believe it. All because you didn't have enough sense to go and find out for yourself."
The caged bird sat there dumbstruck. Then, after thinking about it a moment, decided to test what the cat had said. It pushed at the cage door, which at first didn't move. But as the bird persisted, to the its amazement, it felt the rusty old thing give way and open.   Instead of simply flying away, the bird backed to the far end of the cage. It was afraid.   "How can I even trust you?" The little bird trembled. "You're the cat! Free bird has told me stories about you!" The cat grinned. "Did free bird also tell you that you could have left this cage whenever you wanted?" The bird didn't answer. After a few moments, it began to move cautiously towards the cage's open door. It came to just in front of the opening and hesitated.
"What if," it said, "I get out of this cage and you eat me?" The cat yawned. "Maybe I will or maybe I won't. If you stay in that cage, you won't know one way or the other." The little bird braced itself and then with a hop, leapt from the cage. A few seconds later, it spread its wings and flew toward the setting Sun.   The cat watched it go before settling in for the most peaceful sleep to be had in some time.
The End
  Moral: It is better to be free of your own accord than allow anyone to be free on your behalf. For some can only truly enjoy their freedom if others cannot.   ***** Thanks for reading. I hope to make this a weekly feature. 🙂