It happened with Red Tails, Birth of a Nation, and now Black Panther. Black women PUBLICLY complaining that black male actors are not living in real life what the portray on the silver screen. They headline slave movies and civil rights movies and have white girlfriends and wives.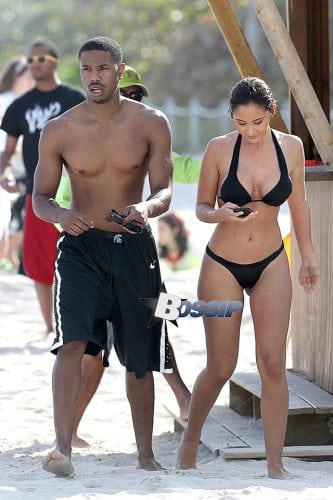 And I humbly ask you…WHAT'S NEW?!
Ladies if we want to be taken seriously about our FREEDOM to date and marry interracially, we are going to HAVE TO LET THAT SH*T GO. Black women high-fiving Serena Williams while smacking their lips at the latest black sex symbol to cross color lines makes you look petty, hypocritical and ridiculous. You're doing the SAME DANG THING some black men have been doing to black women since interracial marriage was legalized. Why are you behaving just like them? My buddy Kendall St. Charles has been saying this for a while–black women ARE a reflection of the men they complain about!
If you're truly desiring to be a citizen of the world and a global dater, you're going to have to reconcile the FACT that black men date any damn body they want to, and your investment in WHO they date indicates you're not really ready for dating equality…but more interested in having the upper hand.
Look, gay people play straight people and vice versa ALL THE TIME. Do you hear gay people saying they won't support a television show or movie because a straight actor is portraying a homosexual?! No!
Ladies, it's 2018, and it's time to truly empower yourselves and stop looking back, and look forward. You know what that means? If you want to see a movie, SEE IT, but don't do it because you feel obligated to support all things black. If you want to protest seeing a movie on legitimate moral grounds like many did when it was discovered that Nate Parker had rape cases in college, or Dr. Dre beats the crap out of women. Bad people shouldn't be rewarded and enriched for their work, regardless of race. Refusing to see a movie because the person doesn't perform in real life as advertised on television is just…silly. It's THEATRE!!! It's the definition of make belief!!
So if you, like me, probably won't be watching Black Panther because you're about sick of yet ANOTHER pain-porn-black-folks-are-so-oppressed flick, then come join me in watching the new season of Black Mirror on Netflix. But if you're sitting on your hands because actors aren't living the lives that they act, then it might be time for some self-reflection.
On a personal note, anything non-pain-porn related that Michael B. Jordan is in, I'll watch. He's a good actor and definitely nice to look at.
See how that works?
Follow Christelyn on Instagram and Twitter, and subscribe to our You Tube channel. And if you want to be a little more about this online dating thing, InterracialDatingCentral is the official dating site for this blog.