This one is breaking my heart. I am very sympathetic to victims of domestic violence to a point. I have seen a lot of crimes and issued lots of arrest warrants. Every now and then you hear of a
crime
 that sends you straight into prayer. I am amazed that this mother, Paula Johnson allowed her daughter to be sacrificed by her child's father who allegedly mutilated her little body and fed her to his pit bull. I am near speechless with this one. Blackistan punishment by a true Ayatollah Blackhomeini whose name is Edward (Chuck) Brown.  He had complete rule in his household.
I know mothers who would have shot this man so fast his head would not have had time to spin but not this weak, Legion of Doom mother named Paula Johnson.  She stood by and did nothing when all she had to do was report the monster father of her child.  Johnson belongs to that segment of women who will stand by their man no matter what he does to her or her children.  When we go to prison to get our men (
hybristophilia
) or choose to stay with violent men, we risk danger and abuse to us and/or our children. Are you that lonely or afraid or both? I am trying hard to understand this mother but I just can't give her a pass. I can't.  Maybe because she applied for and continued to get public assistance for little Serenity until she was caught five years later.  What really gets me is that NOBODY thought to call the police when they didn't see this baby!  Didn't they notice something was just not right when they didn't see her?  For five years????  We are talking since 2005.    If the family did not question it, what took the social workers so long?  At least they did eventually catch on, forcing the mother to tell the truth.  I hope the baby did not suffer.  Thankfully, it seems that little Serenity will get justice.  She had no say in being born to bad and evil parents but one good thing is that the precious little baby is in a better place.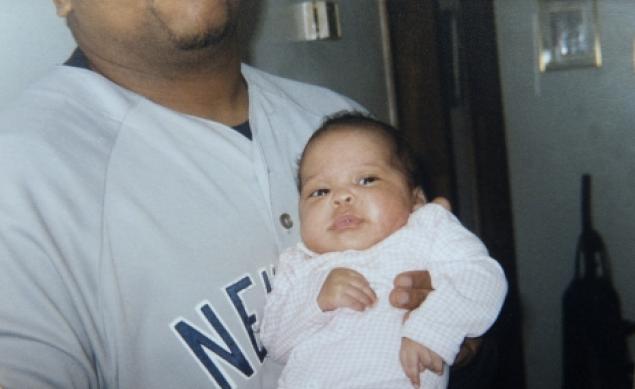 Photo: Robin Rayne Nelson for New York Daily News
Edward (Chuck) Brown holding daughter Serenity in Alabama when she was about 3 months old. The baby's mother claims Brown delivered a fatal blow to the child's chest, and then sliced up her body and fed it to a pit bull.
If the baby Serenity story was not bad enough, we had another Legion of Doom mother 2.0 in the news this week.  Andrea Walker is alleged to have killed her 7 week old baby Aniston.  She reported the baby missing to the child's father after returning home from dropping her 5 year old to school.  Walker stated that she left baby Aniston with her 3 year old and was nowhere to be found.  First of all, who leaves an infant with a 3 year old?  Walker didn't just go outside to get the mail.  She took a child to school. What???  Walker has been hit with a few charges that include two counts of first degree murder making it a possible death penalty case in Tennessee.
What is wrong with a mother who could hurt the life she brought into this world?  I do credit the father for reporting the baby missing.  The news reports show a nice home where Walker lives.  Although I don't know her personal situation, I must say that moving out of Blackistan without changing the mentality does no good as many carry it with them to the nicer neighborhood.  So people in essence move from Blackistan to Blackistan Heights, a suburb just outside of Blackistan.   Aniston Walker's body was found by a motorcyclist who just happened to stop and pull over near the body and spotted her.   Aniston looking up in the photo like an absolute angel is also in a better place.