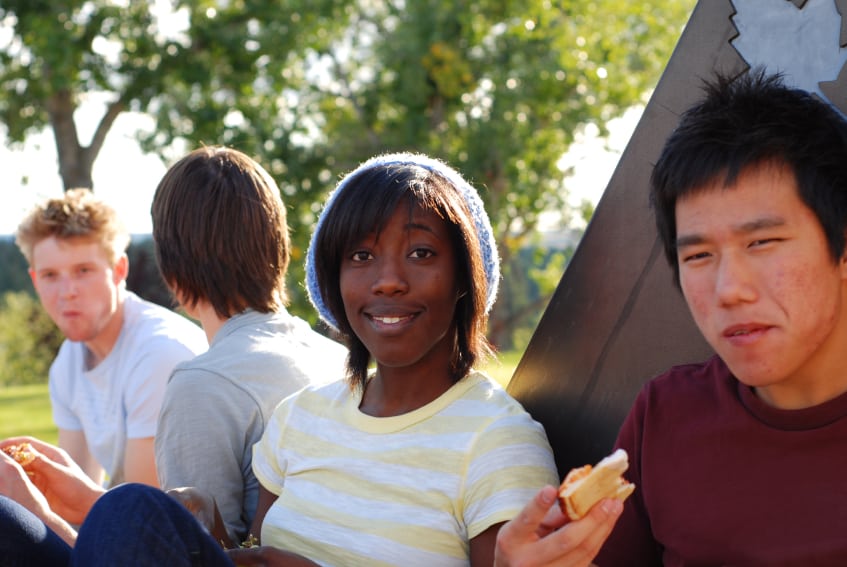 When I get notes like this, I swear, everything makes sense. So glad more girls and women are coming out of the shadows and telling their truth. And as you read, check out the paragraph I put in bold. Yes, ladies, WE make a difference. Not just me. This is a COLLECTIVE operation. All of us are contributing to the betterment of black girls and women. So now when your friends and family complain you spend too much time online blogging, them to shush, because you're busy changing lives.
Dear Mrs.Christelyn,
I am a sixteen (going on seventeen in April) year old female who happened to come across your website while researching interracial dating for teens. I've spent the past week or so reading your story and all of the regular commenters stories, comments, and topic discussions. I wish not to disclose my name but my story. I hail from the mean streets of Trenton, New Jersey. I've lived in Trenton for most of my life, but halfway throughout my High School years I stayed with my sister in Burlington Township, New Jersey to receive a better education.
Having done exceptionally well in my testing scores my principal decided to skip me a grade and I went straight from fourth to sixth when starting my new middle school. This has allowed me to graduate a year ahead of my time and I am currently done with High School. Right now I am working full time and plan on going to college in the near future. There are many demons that lurk inside me that I am trying to rid of before I return to the pressures of school/college. Given my age, going to college next year instead of this year will not be a problem seeing as though I graduated a year ahead of my time. Throughout my High School and adolescent years I've dealt with many of the things the women on your site have dealt with in regards to how I am treated as a black female in the black community.
I suffered a lot of verbal abuse from my parents growing up. I was constantly compared to my older siblings in regards to my academics and my "anti-social" behavior. All four of my siblings are much older than I (25 +) and are all successful in their own right. I also find myself to be an intelligent and successful individual. Throughout my middle school years I was held in high regards due to my excellence in school. My grades were top notch and I skipped a grade (something none of my other siblings had done). Though I was doing great academically, my social life was pretty much non-existent and I often longed to excel in something other than my school work. Toward the end of middle school I found myself intrigued by poetry and began to write and read to further my comprehension and vocabulary. I grew a liking to poetry and writing and found myself in a bedroom full of notebooks with endless stories, poetry, and rhymes. The more I wrote and studied vocabulary the more knowledgeable I became.
I am an introvert by nature and was very anxious throughout my years of schooling keeping one or two friends close by. Both my parents and siblings had field days with making fun of my "anti-social" behavior and would often criticize me in ways that seemed like gang up sessions. My siblings often noted that I was "spoiled" or got things that they didn't have growing up and my parents only praised me when it came to academics. When I began to try and "find myself" the beginning of High School and balance between academics, creating a social life, and finding my niche, I got hit with so many subliminal insults. "Your grades are good. BUT they can be better. You need to stop trying to be everybody's friend and focus more on your school work. WORK. WORK. WORK." I'd spent countless hours writing and longing to share my poetry only for my poetry to not be valued or of interest to anyone. My father is a drug addict and an alcoholic and would disappear for many days at a time, come back home and verbally abuse my mother to no end. They got into a physical fight one time I just so happened to be out and argue ALWAYS. He currently awaits court due to driving with a suspended license due to multiple DUI's. My mother still takes care of him and protects him. Only now that I'm older do I speak against it and do not tolerate it. My mother in fear of losing me no longer verbally abuses me on account of defending and protecting him. My father and I currently do not speak unless necessary.
Having had self -esteem issues pretty much all my life though I am considered "pretty" in the eyes of many others, I think much of it has to do with how I was raised and in dealing with the black community. My last encounter with a boy whom I found myself caring for has lead me to a place of self reflection and a brand new start in life. There were three black males in my life that have turned me off completely from dealing with anymore black males on a "personal level". The first being my father (whom I clearly see was a major part of the reason behind my low self esteem and poor choices in dating) and the second two being two boys I'd consider my boyfriends at the time.
The first boy, let's call him Don, was only interested in me for sex. He'd told me a numerous amount of times though I ignored It. I was very frustrated with my mother and family at this time and allowed this "relationship" with him out of low self esteem and loneliness. When I caught onto his games I decided to end my relationship with him. He coerced me into telling him that I loved him and ridding my friends who were trying to look out for me and tell me he was bad news. He bad mouthed me to his friends and other girls that he "truly cared for". Apparently I was such a horrible person to him, because I had a better vocabulary than him and he never knew what I was talking about or I was trying to "outsmart him". "So I'm the dumb one, and you're the smart one right"? I didn't listen to him and motivate him. I made the mistake of giving him money, It was only about ten dollars and I'd figure he'd pay it back. Nope! Broke arse. Given his situation I thought he needed it to buy "food" and he really bought black milds with it. The girl he really wanted to talk to was "cuban", had good hair, dimples, and was exotic and yada yada yada. After cutting him off i was subject to harsh harassment by his girl "friends" for leaving him and they all maybe about six of them wanted to fight me. All the while he was JUST FINE. None of them had even known me or anything I was about. I was too petrified to talk to anymore guys because of this situation. I'd gone into a temporary depression and prayed for a mended heart. I decided never again would I get involved with this type of character.
Fast forward to relationship number two. The second guy I was involved with had an extremely bad reputation. Smoking, drinking, disrespectful, fighting, gangs, suspension, you name it, he did it. But we had one thing in common, both of our family situations were pretty messed up. He knew about my situation as I did his. I felt that no one else would be able to relate to my situation or accept my situation so I stuck with him. He treated me like garbage. Everyone around me just shook their heads and told me I was way too good for him in front of his face, pulled me aside, and some people would just look at me in shock. After it became obvious that we were "together" and that I "wasn't going anywhere" (even after he physically attacked me for not speaking to him which was justifiable to him in his mind) his friends would tell him to "treat me right" and he would get mad or tell them to shut up. It often dawned on me why he got so angered at the thought of treating me "right". In private he'd tell me he had feelings for me, but when he got around certain friends of his he treated me like i was nothing. He never borrowed money but he borrowed other minor things from me while I received nothing in return.
All the while in being with him, I grew a liking to a white boy who had shown extreme interest in me. He called me gorgeous everyday, always complimented me, wasn't ashamed of me in certain venues, and enjoyed conversating with me in things other than the "physical". He stood up for me when I was around a group of boys who were being extremely vulgar telling them to "not be disrespectful around me". He actually cared about who I was and what I was about. He didn't want to be a rapper, basketball player, smoke and skip school. He didn't want me to me dumb myself down, appreciated my dialogue and offered to take me out to dinner and PAY FOR ME. As did another white male who was also in the shadows during my first "relationship". He confessed to liking me and wanting to take me out and PAY FOR ME. The first white boy I mentioned told me his dreams of military, a wife and kids. The second white boy I mentioned wanted to go to college and major in psychology as do I. He also took a liking to poetry and I found his writing to be profound. Still I stayed with the loser who treated me like absolute trash, trashed me when I wasn't around, and told all of his friends I wanted "the d!ck". I wasn't "ratchet" to him I was a "good girl" and he enjoyed testing me to see how I'd react. I enjoy exercising and keeping fit which was unattractive to him, he wanted me to be "thick". Long story short, my relationship with this boy ended much like the first. He of course was dealing with many other girls and I was pretty much non-existent in his "real life" and my last conversation ended with him telling my "black a$$" to "leave him alone". I told him I was there for him if he ever needed me and went into another state of depression. This was not too long ago.
Fast forward to present day, I am no longer sad that these two "relationships" occurred and I am no longer weighed down by my not so great upbringing or the place I grew up in. I am currently working full time and my self-esteem has tremendously improved. I pray everyday even if it's just thanking God for waking me up in the morning. I plan on moving out of here and moving forward with life. I have dreams, and goals. I want to write, travel, do photography, and plan on being a motivational speaker. I want to go to college and receive my master's degree. I am not ashamed of who I am.
Listening to rock music or anything other than trap and rap where black females are lowered to nothing but b!tches, sluts, thots, and gold-diggers does not make me a lame. Staying in shape does not make me a "wanna be white girl". Having respect for myself does not make me a prude. My excellent vocabulary does not make me think I'm better than anyone else. Not responding to cat calls does not make me a snob. Having manners and speaking in a calm voice does not make me boring or bourgeoisie. Wanting to be treated with love and respect is not asking for too much. Wanting to date or befriend people who will treat me like a human being and share similar interests that are not African -American does not make me a sell-out. I am smart, gifted, beautiful, respectful, worthy, and have much to offer this world. I WILL BE TREATED WITH RESPECT. I am over the black male and the black community. By that I mean I will no longer participate in the disrespect that black females such as myself have endured for so long so much that we have to work twice as hard in excelling in this world. My self-esteem grows everyday the more and more I realize how worthy I am and how thankful i am to know all of this at such a young age. I've already voiced to my family that the next "relationship" I am in will be with a non-black male. These black males my age do not know any better and many of them have no role models other than these senseless rappers who come off of the same streets they do. I noticed with both of these males, neither of their parents were in their lives to guide them. I know better, so I will do better when choosing a mate in my later years. That mate will not be a black male, they are too damaged.
I enjoy reading your site and wanted to let you know that your site and it's commenters provide me with comfort and let me know that I'm sane, and I am not the only black female that can see very clearly that the black males in this day and age are in fact DBR and need to be left to self destruct. I will NO LONGER be apart of it or support/allow their behavior. I look forward to my new beginnings in venturing out and again want to say thank you in helping give me the courage to do so. Also, CONGRATULATIONS on your marriage/relationship. I am praying for you.
Signed,
Sixteen going on Seventeen