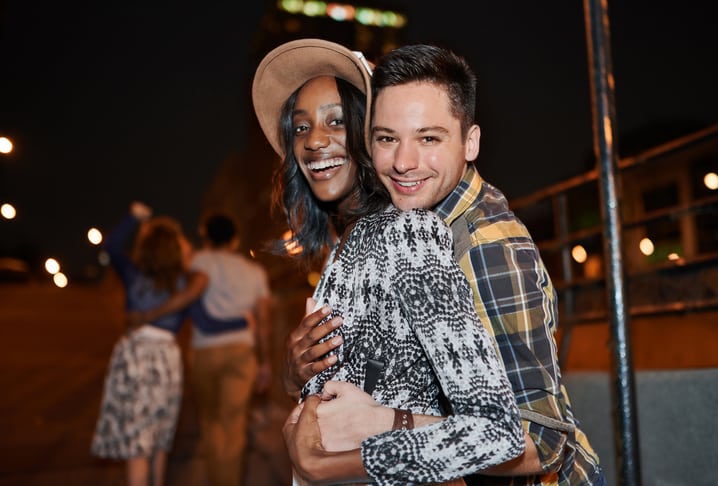 It looks like our trip this summer to tour Toronto for our first Girl Who Swirls Goes Around the World tour is just in time, because it seems like all the opportunities that have been earmarks for success in the United States is declining, while those same earmarks are increasing in Canada.
From Macleans, Canada's largest magazine:
[…where once America stood alone as the land of opportunity, there are now dozens of other countries that have surpassed the United States; chief among these is its unassuming northern neighbour, Canada. Where do you go now for "Life, liberty, and the pursuit of happiness"? Canadians live 2.5 years longer than Americans. They are six times less likely to be incarcerated. And the World Economic Forum ranks Canadians as the 6th happiest people in the world, while Americans lag behind at 13th.

Every aspect of the American dream is now more easily found in Canada. In the United States, 46 per cent of the population has been able to obtain a college degree—in Canada it's 59 per cent. After graduation, Canadians are more likely to find work, with an employment rate four points better. You are more likely to afford a house with a white picket fence in Canada, where home ownership rates are five per cent higher. Canadians also have more time to enjoy their homes, as they work over 80 hours fewer per year—and they take an extra three days vacation.]
Wow. You mean a black woman can move to Canada and live longer, get more vacation time, stay healthy, not be mired in school debt and face less prejudice and discrimination? Do tell.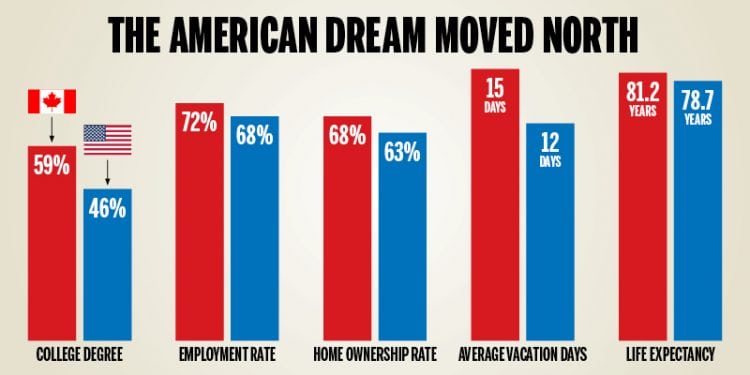 The magazine goes on to brag, "Whether it was due to geography or history or maybe even policy, we have arrived. Everything America once aspired to be, we now are. Not only have we achieved the fabled American Dream, we are arguably among the safest, healthiest, happiest human beings to have ever existed."
To be fair, Canada is STILL pretty darned white, and a lot less populated than the United States. Canada has a population of 36 million, while the United States has a whopping 322 million. And let's not talk about how the weather in places like Toronto have frigid cold temperatures and people basically travel hither and thither underground like human moles.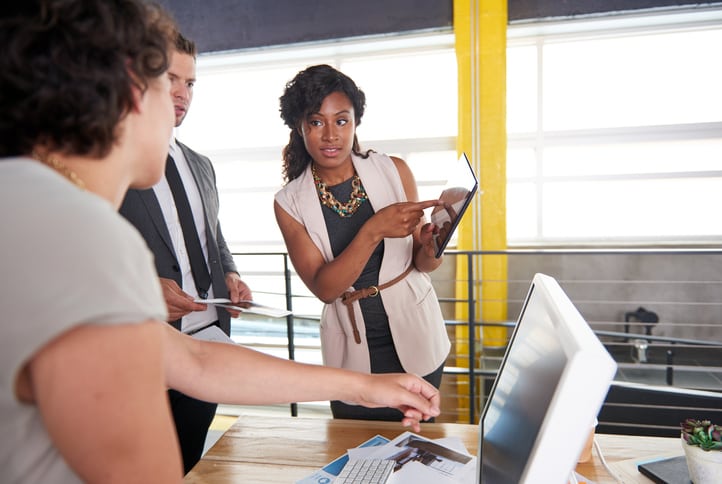 On the other hand, our chilly northern neighbor isn't bogged down with a nasty legacy of slavery and inbred bigotry this country has to overcome. There's something to say about a clean slate. What is more, the country appears to be pretty welcoming of immigrants. Doesn't hurt that it's an English-speaking country so there's no new language to learn.
When we visit in July, we'll be investigating ALL aspects related what it would be like for a single black American woman to pack up and move to Toronto–one of the most populous and diverse city in the country. We'll explore opportunities to emigrate, live and work. For more information about the project or to contribute, click here.
So what say you? How many of you single ladies are ready to become an expat in Canada? Here's an article on the four ways you can pack up and leave.