Written by Nicole J.
Now that Princess Ariel has been cast in the remake of The Little Mermaid, focus now shifts to who will play her prince, Eric. I have already stated in this post what the story would end up like if he was black; basically it would just be art imitating life in the constant struggle love narrative that gets peddled when black women and men get together on the big screen. So who do I think would make a good Prince Eric?
Well, looks-wise, the likes of Henry Cavill or Ian Somerhalder come to mind, with the black hair, light eyes, and chiseled jaws like the animated version, but at 36 and 40 respectively, they are far too old to be suited for the role.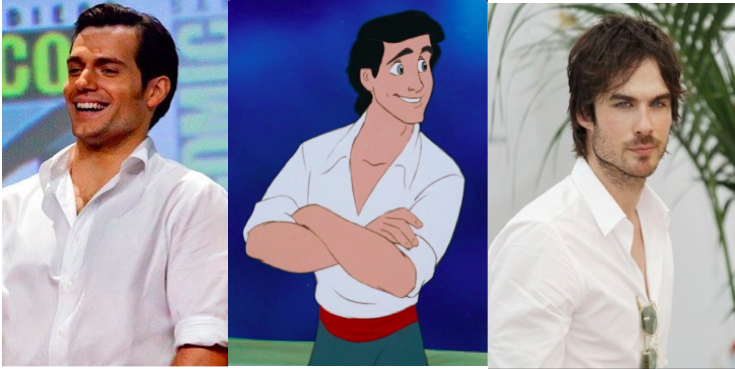 With Ariel being 16 in the animation, and Halle herself being 19, I think the ideal age range for her Disney prince should be somewhere between 19 and 29, and most ideally 19-25 – too young and it's unrealistic (well, for a mermaid fairy tale, anyway), and too old, it'll be creepy and weird. So here are, in no particular order, my top choices for Prince Eric casting. For added similarity, I tried to include of shots of everyone in a white collared shirt.
Trevor Stines, 25
I know Trevor from my guilty pleasure absolute trainwreck show of choice, Riverdale. I think he's super fine, and with a bottle of hair dye he could possibly pull it off.
Shawn Mendes, 20
Shawn gets bonus points for being a singer. I don't know any of his songs, but Twitter said it could work, and I agree. He's also the youngest on this list so bonus points for similar age.
Tom Holland, 23
His schedule will probably be too busy for the next several years from his Spiderman appearances, but I think it could work.
Nils Allen "Boo Boo" Stewart, 25
Prince Eric with long hair? I'm totally here for it.
Charles Melton, 28
I know Charles from Riverdale as well, and he too is super fine and has the princely jaw to match. However, as the oldest on the list though, it dips a little into the age inappropriate side of things.
These are my picks for Prince Eric. Additionally, anything other than Ginger Minj for the role of Ursula should not be considered. Ursula was based off drag queen legend Divine, so the torch should be passed to a modern day update, and Ginger 1000% fits the bill.
Who do you think should play Prince Eric? Sound off in the comments below!