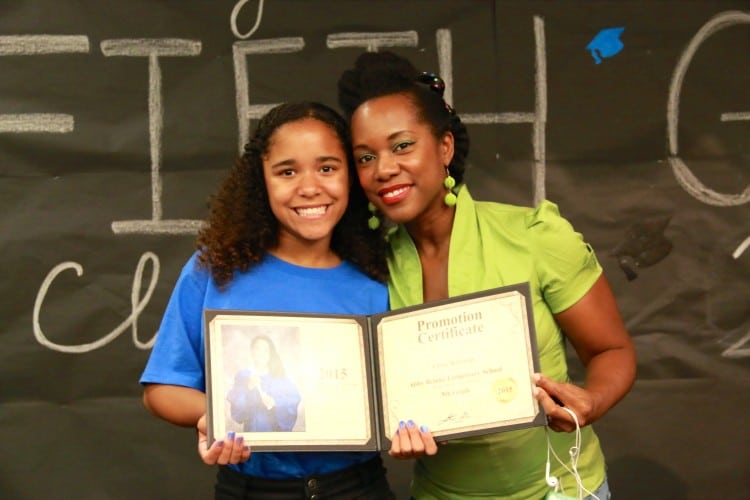 My little Chloe had her 5th grade promotion yesterday. She made the honor roll and everything–my little Clo Clo is a smart one! At the end of the program, her class sang, "Do I Make You Proud?" and I crumpled down into a puddle of tears. Yes; indeed she makes me proud.
But as she goes on to middle school and beyond, I know she will face a world that I won't always be able to protect her from. I know she has a good foundation because she has two parents committed to marriage and her dad thinks she hangs the moon. But I'll admit I struggle with telling her too much too soon…is she ready? Will it scare her?
Then I decided that the best way to introduce her to the ups and downs and highs and lows of the world is through a letter that I would write my almost 12-year-old self. I'm working on it now.
Dear Daughter,
I know that life isn't always easy. You doubt yourself, wonder if you're pretty enough, or if you'll be popular and have lots of friends. I want you to know that friendship doesn't come cheap, and true friends take time to cultivate and nurture, much like what you see me do out on the garden. It's for that reason, that it's pretty impossible to have legions of true friends. More than likely, you'll have one or two, and you'll know they're your true friends by their actions. They will keep your secrets. They will encourage you and your dreams. They will want to best for you. They will stand up for you. And in turn, you will do the same for them.
Know that there will be people who come into your life that will pretend to be your friend, and it will hurt terribly when you discover that they weren't. Don't allow this to harden your heart. Reflect on what went wrong, and learn to protect yourself in the future.
There will also be boys that come into your life that might say they love you–in fact, they'll say ANYTHING to get what they selfishly want from you. But here's a secret to bypassing all that potential hurt. Never forget that LOVE IS AN ACTION. It is not what people say, it is what they do. If a boy or man's words don't match his actions, he is not the right one, so move on quickly and release yourself for the one who mouth matches his acts.
Work hard for what you want, my love. Nothing in life comes easy. Anything worth having is worth working hard for. Do your absolute BEST in all things. If you always do your best, you will never have to regret. Have a roughly-drawn roadmap of your future, and work towards it. But understand that life will create roadblocks that might lead to detours. But there is something to be learned even when life goes off track. Take some time to enjoy going off the beaten path, learn something, and then more forward in your journey.
I may not always be with you to kiss your boo-boos and make the pain go away, but know that I love you with every ounce and cell of my body, my beautiful, wonderful girl.
Yours,
Mommy
—-
What would you write to your younger self? What sorts of things will you say to your daughter?