I would like to introduce you to an exciting new product from Masala Bhangra Creator, Sarina Jain.  I was recently on assignment at Tulsi Restaurant in Midtown for the launch of Masala Bhangra's newest DVD additions, "Bollywood Diva" and "Bhangra Burn."  When I got the invite, Masala Bhangra sounded familiar.  So imagine my surprise, when I did some research to find out I had previously taken Sarina's Bar Bhangra class at Crunch gym.  I can definitely say from personal experience that you will definitely feel the burn!  Not only does she get you sweating, but by the end she'll have you dancing a full routine and screaming "Balle, Balle!"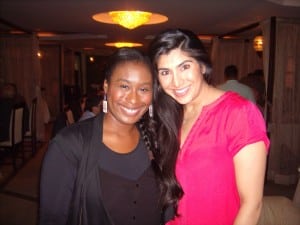 This California girl began Masala Bhangra in her garage!  (Talk about a grassroots movement.)  Donned the "the Indian Jane Fonda", what sets her apart from most is that she possesses the ACE & AAFA certification to back it up along with 20 years of experience, including dance.  Masala Bhangra was created to honor her Indian heritage and her late father, who passed away at the age of 47 from a massive coronary and wanted to ensure that his children embraced and appreciated their native culture.
Sarina's family comes from the Southeast Asian community and as members of communities of color we share that common history of heart disease, diabetes, and obesity.  What began as a tool to motivate her older Indian relatives, has become a fitness revolution.  Like Sarina, we as women of color are dedicated to make sure that this cycle ends with us. She understands that the heart is the strongest and most vital part of the body and how important it is to keep it strong to live.
Masala in Hindi means 'spicy'.  Bhangra is traditionally a Punjabi male folk dance, but Sarina flipped the script.  "Only older men can do folk? Its 2012, women can do bhangra as well."  Gotta love a rebel who breaks stereotypes.  What makes Bollywood Diva "spicy" is the bridging of traditional bhangra movements, with Bollywood choreography and old school aerobics.  It's great for beginners and those who are new to working out.  She intentionally made it easy for everyone to enjoy including men and women, as well as children of all ages.  What makes it even more unique is that it was designed to include women who are pregnant and those recovering from injuries.  (You will see them in the DVD.) But if you're looking for a more intensive workout, then you should reach for the Bhangra Burn.  This high –impact workout is designed for more experienced avid gym or workout persons.  "It's an intense workout, but you can do it at your own pace."
Naturally, what will keep you going is the music, so Sarina has also created a special soundtrack to keep you moving.  She personally chooses the singers to bring in for recording and then edits the music herself.  From there, she designs the choreography.  "Everything has meaning.  I want you to act out the lyrics."  With every move you make, you are literally telling the story of the music. Her passion for health and charismatic ability to make it fun is what makes Masala Bhangra literally one of the hottest dance fitness programs out there.  With every workout, Sarina invites you to indulge in the richness of the Indian culture.  Time to rock it out, ladies…Indian-style!
Thank you so much to Sarina and Michelle Barge for speaking with me and making the evening so warm, intimate, and welcoming!
Check out Sarina Jain and Masala Bhangra at  https://www.masaladance.com/
If you're in New York and interested in classes check out Sarina at Alvin Ailey Dance Theater or Crunch Fitness.
Here's a little sneak preview of her classes at Crunch:
Here are some photos from the Launch party: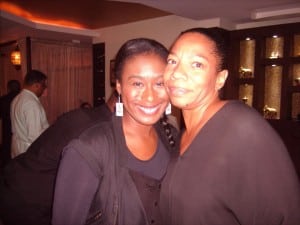 "If you can look closely, you'll see I'm wearing my 'Swirling' earrings."