I get this question quite a bit, and I have to be very delicate how I answer. But it's time to address it.
Hi Christelyn,  I'm a single black woman in my 40's and as long as I can remember I've always been attracted to Caucasian men but I have never dated outside of my race. A few years ago at a girls night I said to my girlfriends, that I wanted to date outside of my race and they were all like " duhh, we knew it, we've just been waiting for you to admit it!" I have good friends that are interracial couples and I know some of the struggles and obstacles they've had to overcome. I know because of my family and those obstacles I've never done it. My children are black but I've never been married or have had a successful relationship I think because I chose what I think is culturally acceptable for everyone else and not for me. Over the last few years I've been single and celibate because I've just decided to wait for what God had for me and not choose on my own. I find myself now not even interested in black men anymore, not for dating. I just feel like now with my age, the children, and past situations, is there love for me in an interracial relationship? If it is where do I begin to even meet someone. I get a little discouraged on the interracial dating site just creating a profile..Is there any advise can give?
Okay I'm going to be frank. At the risk of sounding disrespectful, I wish to God you would have felt more emboldened to pursue an interracial relationship before you became the never-married mother of five kids. I came into a marriage with one child from a previous relationship, and even that had challenges. But five sons is a lot for any man of any race to take on, and most will either do two things: Proceed with caution, or run for the hills. You told me in a subsequent email that their ages are 22, 18,13, nine and five. You have three sons living at home, and frankly, males are very territorial and will be suspicious of your boyfriends and protective of you, because they love you, but also because they probably not going to be excited about their nest getting upset by an outsider. And in all honesty the chances are slim that a man is going to take that on.
Slim, but not impossible. I just got a note from this couple on our Facebook fan page:
My name is Samantha and this is my husband Eric, we were just married in this photo. Between the two of us we have 6 kids and 5 grandkids. We are a blended family & we couldn't be happier! The Lord has blessed us in many ways. I love this man & he loves me ♥♥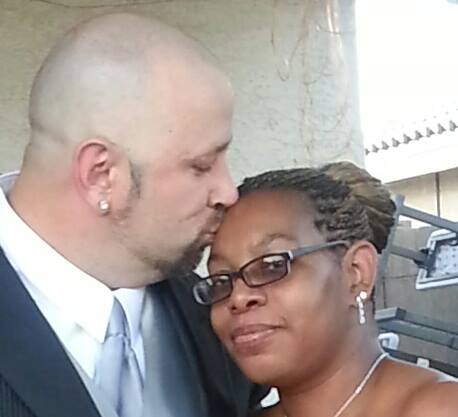 You asked me if it's too late. It's never too late to find the love you seek as long as there's breath in you. But be aware that some roads are bumpier, full of roadblocks and traffic jams, so proceed with caution and awareness, and it goes without saying that you must put raising healthy and whole children first.
Got a question? Hit me up at [email protected]