An event occurred earlier this month that garnered national news. On a lovely spring day in Portland, Maine, an interracially married couple wanted to take advantage of the sunshine and 60-degree weather by visiting downtown for some gelato. The family composition is as follows: Jeff is white, 47. Shay is black, 42. Shay has a son, 23, from a previous relationship; the couple share a nine-year-old child. Shay was excited to have her son join them for a visit, and little sister was love her big bro.
Can't you just imagine it? After such a long, freezing and snowy winter, the locals  go out to enjoy the emerging leaves on the trees and early spring flowers. I picture this family walking along, licking at their gelato, and perhaps Shay's son is engaging in some harmless teasing of his little sibling.
Then out of nowhere, a vehicle full of hateful white men drive by and yell "NIGGERS!!"
I can first imagine how all of them might have been struck dumb at first, unbelieving. And then I see in my mind Shay's outraged and fool hearty son race after the men in the truck and she watches in horror. I can almost hear the cries of his little sister, begging him to please come back. Then I see Shay's husband Jeff, analyzing and assessing the situation and working out how best to protect his family.
In an instant, that beautiful day is shattered. And like a proverbial scratched record, all of the surrounding citizens stop and gape. Nearly all of them will say nothing, and do nothing. Only one lone Mainelander will face the family and ask is all are well.
Shay becomes frantic, looking and fearing for her son and finds him. Luckily he wasn't able to catch up with the hooligans who ruined his family's day. Amongst the crowd of people pretending to ignore this family's crisis was a local news anchor for WCSH-TVby the name of Jackie Ward. She even wrote about it on Facebook: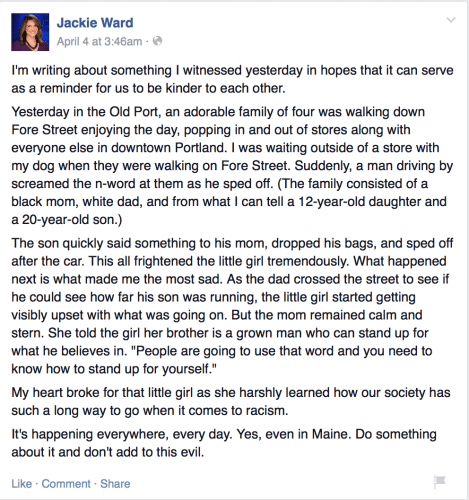 Pay close attention to the last sentence: "It's happening everywhere, every day. Yes, even in Maine. Do something about it and don't add to this evil."
Except…Jackie herself was amongst the mute onlookers who did nothing.
Evil prevails when good men (or women) do nothing.
This event is especially interesting to me because I know Shay. We're blog buddies going way back to 2010. In addition to heading a nonprofit organization to overcome racism, so runs BlackGirlInMaine. Lucky for me I was able to pick up the phone and call her to get a first-hand account. I asked how she felt about her fellow Mainelanders virtually ignoring her, she said she almost felt doubly victimized. "Stand up and say something!  It really hurts. You've already been brutalized by that word, and then when no one says anything it takes away your humanity."
I also wondered if the fact that she remained stoic as her son raced after the men as her daughter was screaming might have lent others to feel as if she didn't need their assistance. "Black lady tears are not valued like white lady tears," she told me.
The other issue I raised with her was how violated she must have felt and angry that she would have to halt what was supposed to be a beautifully mundane family excursion to talk to her children about racism.
Since the story made international news and Maine is populated with about 1.5 million people, everyone knows. People have come up to her apologizing. The old ladies in her yoga class are gushing. The mayor has called. Many are concerned that this event will make their state, heavily dependent on tourism dollars, "look bad."
Well it certainly makes me think twice. I've been a Stephen King fanatic for years and I've always wanted to visit the state that inspired so many stories from him. I wanted to take my family. Maybe get a gelato in downtown Portland.
Now?
Maybe not.