You'd think one of the writers of the illustrious New York Times would cross-check her information before she threw major shade on Shonda Rhimes, one of the most powerful African American women in Hollywood. Apparently Alessandra Stanley is not a fan of Rhimes' new brain child, How to Get Away with Murder, and specifically it's star character, played by Viola Davis. Stanley opens her piece with, "When Shonda Rhimes writes her autobiography, it should be called "How to Get Away With Being an Angry Black Woman."
But why would she say that? Well, because all of Rhimes' hit shows depicts black women with layers, you know, like most humans.
The writer goes on…
Ms. Rhimes has embraced the trite but persistent caricature of the Angry Black Woman, recast it in her own image and made it enviable. She has almost single-handedly trampled a taboo even Michelle Obama couldn't break.

Her heroines are not at all like the bossy, sassy, salt-of-the-earth working-class women who have been scolding and uh-uh-ing on screen ever since Esther Rolle played Florida, the maid on "Maude."
I wonder…and this is just me thinking out loud…if much of this hand-wringing is because some folks are starting to be uncomfortable about seeing powerful black women being the objects of sexual desire by any man, but especially a white man.
Let's be honest. Many white women are comfortable with the exact caricature Stanley describes. If we're fat, loud, sexless and putting everyone else above our own needs like good little mammies, then black women aren't a threat. I guess what's even more ghastly is that Rhimes is using her sizable clout to display a non-mixed, darker skinned black woman who is imperfect and has an actual sex drive. OH! The horror.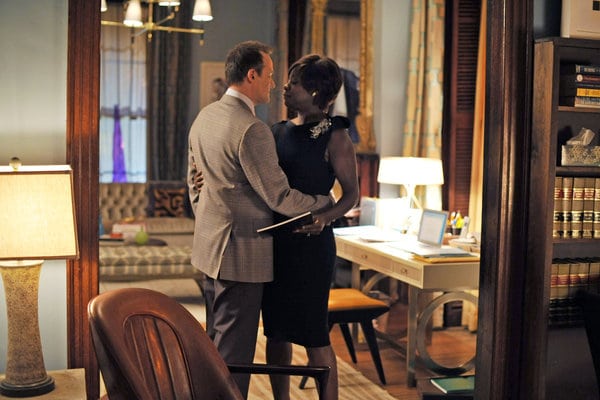 What on earth will the world do if the collective male gaze no longer rests on black women that look like white women dipped in chocolate?!
Well Shonda got the last words on that slick diss, and went to Twitter. Apparently the NY Times reporter didn't even get that the writer of the latest show, a white gay man, right.
Thanks for throwing shade on Shonda, Alessandra. Now I'll be sure to set my DVR to HTGAWM.
Get ready, folks. This is just the beginning.