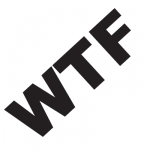 Lawd have mercy. Thanks to a fellow BB&W member I watched a You Tube video that made me throw up in my mouth a little bit. There's a whole lot of mouth-farting going on, but here's the highlight: this "minister" says it's the woman's responsibility to "stay hidden," and thus, online dating will never reap you a godly husband:
[youtube=https://www.youtube.com/watch?v=o_kkYmKAEG8&hl=en_US&fs=1&color1=0x5d1719&color2=0xcd311b&border=1]
Now, this burns me up. Deborrah Cooper caught a lot of hell over her now-(in)famous post on how the Traditional Black Church is conspiring to keep black women single and lonely. Apparently she got some really ugly emails from some so-called Christians who dubbed her the anti-christ. Come on, people! Time to rise up and call it was it is! Completesackofshit! Say it with me! Completesackofshit!
God bless you, every one. 🙂