From Uganda to Serbia, Rose Bugarčić's Incredible Journey

Decision on employment presented by the Minister Ivica Dacic (Photo A. Vasiljevic)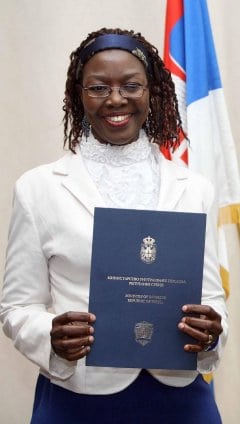 Rose Bugarčić
I am happy with the title of "SwirlQueen" bequeathed to me by BB&W founder Mrs. Christelyn Karazin.  It suits me well.  However these days I feel more like a "Swirl Huntress".  I scour the Internet and all corners of the world to find black woman interracial marriage and relationships.   Last year I found Rose Bugarčić.  In 2011 Rosa Josiah Mirembe Abbott Bugarčić or simply Rose, became the first black woman to be appointed to the Serbian government, specifically the Ministry of Internal Affairs. Originally from Uganda, is married to Serbian Zivko Bugarčić and they live with their 3 children in Belgrade. Minister Ivica Dacic officially charged Rose with the challenge to resolve issues mainly because of her expertise in European integration. She felt the need to do her part and contribute to Serbia's application to the European Union.  I don't know Rose, but I am awfully proud of her.   She must have overcome tremendous odds to achieve such lofty status.  Hat's off to you Minister Bugarčić!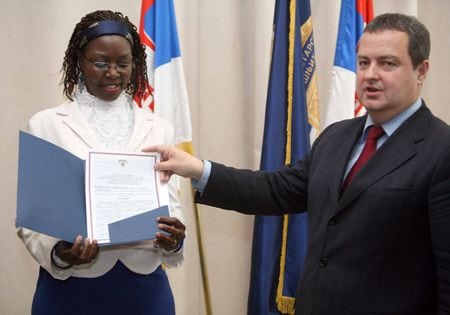 Originally from Uganda, Rose graduated with an Agriculture degree there in 1994. She went to the Netherlands to a seminar on new technologies in potato cultivation where she met her future husband Zivko. They traveled to Uganda to meet her family, and from there they went to Guca, Serbia where Zivko was born and met his family. The couple and their children have lived in Serbia for the last 15 years.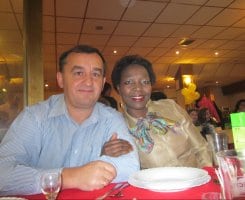 Zivko and Rose met in the Netherlands.
When asked what she thought about living in Serbia, Rose thinks it is very nice. But there was the issue of the weather. Rose did not leave the house during the first two Winters when they lived in Guca. She could not get used to the cold. So they just kept fires going. It was also a challenge to Rose tying to master Serbian so Zivko served as her translator. But before too long, Rose learned to speak Serbian fluently. And she even learned the Cyrillic alphabet so well that she was able to read Politika, a newspaper. The children, who are Afro-Serbian speak Serbian and English but unfortunately don't know too much of their mother's native tongue. Rose relinquished her Ugandan citizenship preferring to become a naturalized citizen of Serbia.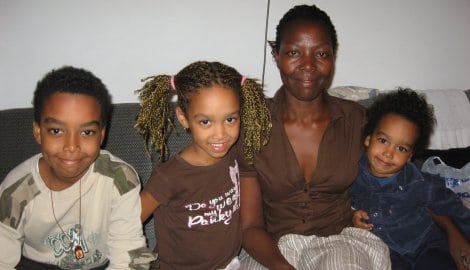 Rose Bugarčić with children – Nicholas, Mary and Alexander