Kodak Black. Never heard of this rapper turd, but he reminds me of Buckwheat from The Little Rascals.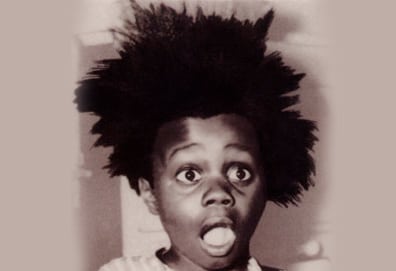 So…I'm just gonna call him that.
Buckwheat states in this audio assault that "He's already black" and so he doesn't want a "black bitch."
Let's examine this line for a moment. A black mother unfortunately gave birth to this piece of excreta and made him dark. As a result, this really kind of pisses him off, because Buckwheat hates being black. So he writes an audio assault basically saying that he doesn't want a woman that reminds him of his own reflection, so he wants a "redbone."
Redbones, please take your Buckwheat. We do NOT want him. We'll just be over here dating and marrying quality men of all races who love and celebrate our dark skin and don't make us supplicants to other men like this Buckwheat piece of shit.
Oh. And YES I'm going to call this mess out FREQUENTLY, so don't even BOTHER asking me WHY I call attention to this soul-killing mess. If you want to keep pretending that this crap is an anomaly then sign off.