Well, my friends out there in Rainbow Land, loving all over your red-or-yellow-black-or-white significant other, take a breath from the French kissing, brush your teeth, and then come back and read relationship expert and guest blogger, Deborrah Cooper's take on who white women feel most threatened by whilst engaging in a romantic relationship with a black man. Oh…and did you get that latest Pew Research Data? Meh… let's save that for another post.
Now, without futher ado, Deborrah, take it away!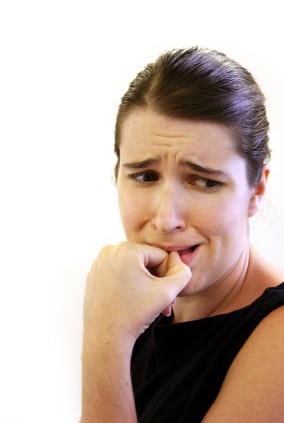 White Chick's Biggest Fear About Black Women
As the owner and operator of one of the oldest Black-owned websites on the Internet, I've spent the past 20 years of my life discussing romantic and interpersonal relationships with people all over the world. Since my site focuses primarily on Black men and women and those who love and marry them, a lot of my research on relationships has covered interracial pairings.
Frequently discussed are the feelings that Black women have about Black men that date and marry outside the race. We also hear frequently from Black men how and why they may have chosen a woman of some other ethnicity as a partner instead of a Black woman.
One aspect of interracial relationships rarely covered though is why a White a woman would choose to be with a Black man vs. a White one, and how she feels about Black women.
Research into this subject in the early 2000s provided me with surprising insight into the minds of almost 100 Bay Area White females in intimate relationships with Black men. I asked each of them ten questions (with additional questions that delved deeper into intriguing statements an interviewee may have made).
One of the interview questions asked each of the White females was: "what is your biggest fear about this relationship?" Every single one of them responded with the same answer… her biggest fear was that her man would leave her for a Black woman.
Not another White woman, not an Asian woman, not a Latina woman… a Black woman.
The deep-seated fear of the Black woman expressed by White females in interracial relationships was quite telling. Even though she has her Black man's attention and commitment, most White women remain in awe of the Black woman's beauty, wit, creativity, sultry sexiness, smashing curvaceous build, dark hued silky skin, and multi-layered attractiveness to men around the globe.
Insecure about her man's loyalty and reason for choosing her, and intimidated by the Black woman's easy way of being with the Black man, the White female worries that "once you go Black you never go back!" may apply to Black men as well as White ones.
A Black man involved in an interracial relationship may feel that his White woman is a step up from a Black female. To justify their choice, such men may express the belief that Black women are less feminine, less beautiful, and less submissive therefore less man-centered and less suitable for "wifeing up" than a White female. Yet, the
females' fear of losing in a competition to this very same woman indicates she believes the exact opposite.
For generations White females were held up as the standard of womanhood and beauty. However those times are changing. Rounded butts, fuller thighs, brown skin and full lips are in baby! The tide is turning in favor of educated, accomplished, sophisticated and sexy Black women becoming the cream of the crop.
As our nation matures, and the sad history of slavery is put further behind us, the numbers of interracial unions between Black women and White men grows accordingly. Every year an increasing number of White males respond to the confident beauty of the Black woman. More White males are courageously eradicating the boundaries of a segregated society and allowing themselves the freedom to approach a Black woman and to express an interest in her as a long-term romantic partner.
Brown sugar is always sweeter and more flavorful than White.
About the author:
Advice columnist Deborrah Cooper (writing under the pen name "Ms. HeartBeat") shares wickedly funny insight into controversial issues such as "friends with benefits" and "booty call" relationships, interracial romance, dating as a single parent, and more!She is also the author of the modern dating guide: "Sucka Free Love: How to Avoid Dating The Dumb, The Deceitful, The Dastardly, The Dysfuntional & The Deranged!" Definitely not for the faint of heart, Sucka Free Love! provides Ms. HeartBeat's straight to the point analysis of common (and sometimes just plain strange) relationship dilemmas. Inside the covers of this book are strategies both males and females can utilize to improve their chances of making a solid connection with the right person.
websites: www.survivingdating.com, www.askheartbeat.com, San Francisco Dating Advice columnist on www.examiner.com too. www.blogtalkradio.com/askheartbeat is show URL