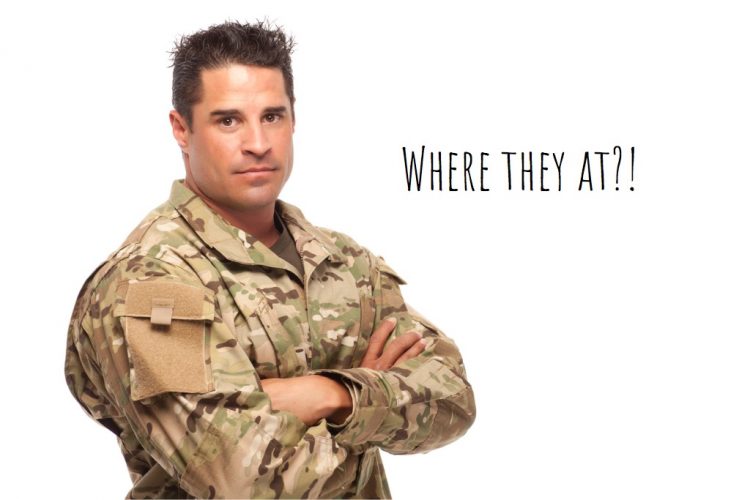 Written by Nicole J.
Valentine's Day is over, and if you've found yourself without an arrow from that baby cherub, why not shoot your shot on your own? Last week, we posted some suggestions on where to find a nerdy guy in time for the Hallmark Holiday. However, if the geek squad aren't your cup of tea, how about a man in uniform?
But where can you meet them? Here's three tips to try:
1) Travel!
Get out of your usual haunts and see somewhere new. There are many advantages to traveling, like experiencing a new culture, broadening your worldview, and meeting new people. Visit a restaurant or bar near a military base (whether it's an hour or two away, in a neighboring state, or even another country!) to scope out local potential uniformed men to set your sights on. If the military uniform isn't quite the look you're into, racking up those frequent flier miles can put you in the line of sight of a pilot, too.
2) Get your concealed carry permit
This might be a long shot (I know, more puns), but you have a fair chance of meeting an off-duty uniformed suitor at a gun range. Self-defense will always be a valuable skill, no matter your relationship status, so why not join one of the fastest growing demographic of gun owners, while aiming to get yourself a Valentine?
3) Volunteer in a hospital
If you're okay with some strange sounds, sights, and smells, you may find volunteering in your local ER a very rewarding experience. You get to give back to people who are not having a great day, no two days are the same, and there is always something to do. An added bonus of volunteering at a hospital is the variety of potential eligible men in uniform to choose from! Whether it is a paramedic bringing in a patient, or law enforcement officers following up on a traffic accident, there's no shortage of uniforms to pick from. Plus, scrubs are uniforms too…
Other options to meet a potential military mate include specialized dating websites for uniformed singles, through mutual friends, or at charity events in support of our troops.
Do you have a thing for men in uniform? Let us know where you meet them in the comments below!