Shrimp, blood oranges, and papaya in this salad recipe are a delicious tropical trio. The bonus? This dish is low in calories and fat. (From Recipes.com)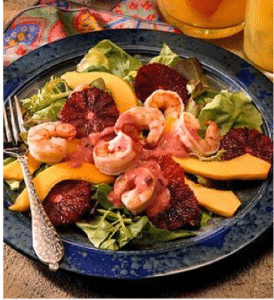 Total Time: 25 mins
Servings: Makes 4 servings.
Ingredients
ï'· 4 blood oranges
ï'· 3 tablespoons blood orange juice
ï'· 1 tablespoon seeded and finely chopped jalapeno pepper
ï'· 2 teaspoons lemon or lime juice
ï'· 1/8 teaspoon chili powder
ï'· 6 cups mixed salad greens or lettuce
ï'· 1 papaya mango, peeled and sliced
ï'· 12 ounces shrimp in shell, cooked, peeled, and deveined
ï'· Raspberry Vinaigrette or dressing of your choice
Directions
1.
Finely shred 1 tablespoon peel from blood oranges. Stir together mayonnaise, orange juice, the reserved
blood orange peel, jalapeno pepper, lemon or lime juice, and chili powder; set aside.
2.
Peel and thinly slice blood oranges. Divide greens among four plates. Top with shrimp, blood orange
slices, and papaya and or mango. Serve with dressing. Makes 4 servings.