Beyond Black & White Feature
by: McKenna Jeffries
When I sit down to write, race usually isn't a factor in my story. The story and the characters are prominent in my mind. It's about the love between two people and race has no place in that. For me, it's about the complexities of two people finding each other and then realizing that they want so much more. That their personalities, needs, and desires may align with each other. To others it may seem they are in no way a match, but they see in each other the other part of their whole.
In my writing, the color of a character's skin is just a part of who they are. It doesn't define them and is just another part of them. My books have multicultural and interracial characters who may or may not know they are on a path to finding someone to love. The characters get to know what makes the other tick, what makes up their values and is the core of who they are. Skin tone doesn't matter or affect the way they react to each other. They are more focused on getting to know the heart and soul of the person they want or they may think they want them only for now. Sometimes the characters are stubborn and don't realize they aren't just in lust but in love. I love the journey of bringing two people together to meld their lives.
In Mating Scents (Rules of Attraction, Book #1) I get to do exactly that – get these two strong characters together. The couple in the book is an interracial couple but as mentioned that doesn't matter to either of them or anyone else in the story. Bailey is drawn to the hero. However, she is convinced that it is just desire and nothing more. Yes, she is one of those stubborn characters who are resistant to love. Garrick is captivated by this confident, sensual and sassy woman who knows what she wants and isn't afraid to let it be known. He reacts to her physically, emotionally and mentally. She pushes all his buttons and he wants her not just for now but possibly forever. Now he just needs to convince the stubborn woman. It's a challenge Garrick is more than ready for. The back and forth as these two come to terms on what they want from each other is sexy and they match wits. These two also have family and friends who are rooting for them to get together. As the book unfolds it takes you on the adventure of these two characters face as they fall in love. There love is about what each person is and not the color of their skin.
Thanks
McKenna
…. sensual, edgy, unexpected


Mating Scents (Rules of Attraction, Book #1)
A memorable encounter brings a man in the path of a woman who will set his pulse racing and make him long for forever.
For Bailey Rueben, giving into temptation leads her to knocking a man off his feet. When she finds out who he is, she's the one who's swept away. She wants to get to know this man who makes her pulse race. In Garrick, she finds someone who makes her wish she believed in love, but she won't let that happen to her. Fun is all she wants with him…or does her heart want more?
Garrick Radley has been off the market for a long time and is rusty with the current dating rituals. When he has an opportunity to get near the woman who has captured his attention, he takes it. The misunderstanding that follows makes him wonder if he should continue not to date yet Bailey changes his mind. As he gets to know her, he realizes that he is already in deep. Now it's just a matter of getting Bailey to accept their mating scents.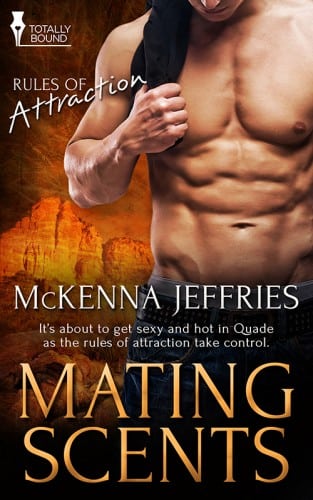 Excerpt from Mating Scents:
"Garrick," Bailey called behind him.
Tyr went on and Garrick stopped and faced her. Indigo and the others were across the room by the same counter Bailey had been at when he'd come in.
"I am sorry for kicking you." Bailey came closer, lowering her voice. "But you were not watching me as if you were up to no good. You were watching me like—"
"You were mine." Garrick blew out a breath. "Yeah, I realized I was after you started to say it. Sorry I didn't know I was doing that. I noticed you a few weeks ago when you and your friends drove up. Been noticing you since then."
"Really?" Bailey studied him, her hazel gaze intent.
"So you've been watching me for weeks."
"When you say it like that it sounds creepy." Garrick shook his head.
"I've not been watching you, I just saw you when you came by and was wondering…" He stopped, not wanting to make more of a fool of himself than he already had. That was what giving into attraction got him—a sore head and being made to feel like an ass who fell on his ass. Garrick stifled a chuckle.
"Tell me." Bailey stepped closer.
Her scent reached him again and Garrick inhaled deeply, loving how she smelled. "What is it that you are wearing?"
"Wearing?"
"The scent." Garrick inhaled again. "You smell so good."
"You're smelling me." Bailey looked amused. "Peaches and honeysuckle is what I wear. I make body lotion, perfume, bath gels and those sorts of things. I also custom make fragrances for people too. That's what my business will be."
"Peaches and honeysuckle. I'm going to remember that." Garrick studied the empty glass display cases before focusing back on her. "It must be interesting making things like you do…"
"Don't change the subject. We can discuss that another time." Bailey moved even closer. "Tell me what you were about to say."
"I'm done looking like a fool." Garrick shrugged. "What I was about say doesn't matter."
"I'm thinking it does." Bailey studied him then smiled softly. "Being a firefighter must take lots of bravery."
"It's my job." Garrick didn't know where she was going with what she was saying.
"But you save people. Sometimes face death when you do. So saying what you want to shouldn't make you hesitate when you face that sort of thing."
"Your logic makes no sense." Garrick wasn't sure what to make of her. She seemed to be teasing him yet he sensed she was very serious.
"To me it does. And at this point, that is all that matters." Bailey rubbed her hand down the side of her jeans. "How about I speculate what you were wondering? You were wondering if I would go out with you."
Garrick smiled. "You're arrogant to assume that is what I wanted."
"Oh, it's not arrogance. It is surety. It was the look in your gaze. Now that I know you're not some crook, I realize that you weren't casing my place. You were working up to asking me out. I'll save you the trouble."
Disappointment filled Garrick at the finality in her tone. He couldn't read her intentions but after the fiasco of his frightening her and making her think he was a criminal, he could only imagine she was about to say no.
"I'm going to ask you out." Bailey moved nearer until she was almost touching him. "Go out with me, Garrick."
"That doesn't sound like a question," he pointed out.
"I'm not good at asking for stuff." She smiled sheepishly.
"Somehow I like that." Garrick couldn't resist. He stroked down her cheek with his knuckle.
Bailey shivered slightly then turned her head into his touch.
"Yes, I'll go out with you." "Good." She held onto his wrist. "I'll give you a few days to clear the ringing in your ears from my kick."
"Why do I feel you are trying not to laugh at me?"
"Because your expression when you got hit was priceless," Bailey said, squeezing his wrist gently before releasing him. "In hindsight, I now realize you were yelling back at me but not in anger. I just don't know why you made the sound you did."
"I was trying to be funny to break the ice by doing a weird mating call to match your yell. Thought that would make you laugh, but I should have realized since you've never seen me before you wouldn't take it as intended. It was stupid of me." He admitted, "It's been a while since I dated."
"Then I kicked you. Makes me think the follow up to that would be what the hell kind of kinky foreplay is this?"
Garrick chuckled. "See, a sense of humor is a good ice breaker."
"Mating call. That is priceless. Oh God, wait until I tell my friends about that." Bailey winked. "Get a promise from them so they don't tease you about it. You'll have to tell me about your not dating and why not on our date. Does Saturday work for you?"
"So long?" It was five days away. "It's your next day off."
"How'd you know that?"
"Indigo." Bailey rolled her eyes. "She observes things and mentioned noticing how your shifts work."
"Why would she notice that?" Garrick glanced at Indigo, who was with the others.
"She likes information and makes it her business to know," Bailey said.
He glanced at her. "Okay. But Saturday is a long time to wait to see you again."
"But you see me when I come here." Bailey patted his hand as she released her hold. "Maybe if you get time while you're on shift, or getting off, you could come over and offer your help."
"I might just do that." Garrick stared at her. "You're turning out to be a surprising woman. Very unpredictable. I find that enticing."
"Unpredictability is a good thing. Keeps you on your toes and intrigued to want to know more about me. That's a win-win. So if you don't get a chance to come see me before, I look forward to seeing you for our date on Saturday." She put her hand in her pocket and pulled out a card, then a pen from her ponytail, before writing on the back. "Call me with your address."
Garrick took the card as Bailey walked away. Garrick stared after her, watching the sexy sway of her hips.
Buy Link for book: https://www.totallybound.com/author/mckenna-jeffries#books
About the Author:


McKenna Jeffries is a multi-published author with books available at Liquid Silver Books and Totally Bound. McKenna has loved the written word from time she picked up her first book. Soon she was creating tales of love and family. Although McKenna used to make up stories she never thought to put them on paper until….she realized the stories would keep filling her until they were written. Since then she's been writing and sharing her interracial/multicultural books. There is always some new story floating around her head. An itchy feeling in her fingers fills her until she can get a piece of paper to write it down. She writes because it's a love affair. Writing is in her blood and she enjoys taking readers on a journey.
With so many ideas filling her, McKenna is always hard at work. For more about McKenna and to find out what she has coming check her: https://mckennajeffries.com
or blog: https://www.mckennajeffries.com/blog or Facebook: https://www.facebook.com/pages/McKenna-Jeffries/194593350588392. You can also sign up for her newsletter here: https://mckennajeffries.com/newsletterandgroups.shtml
Or twitter: https://twitter.com/mckennajeffries