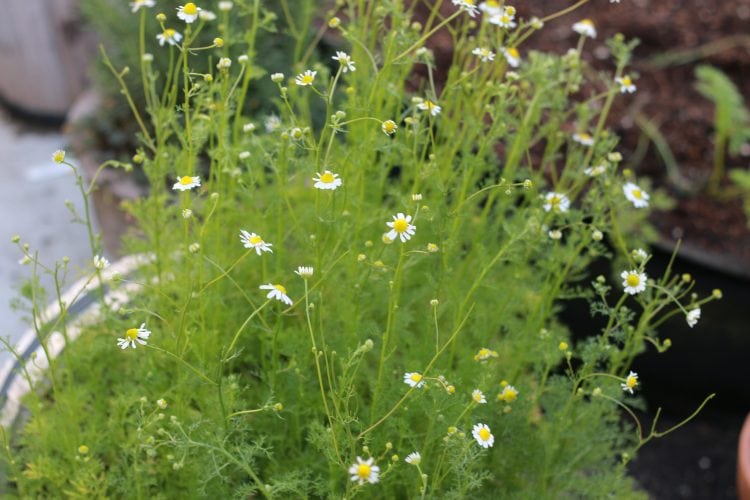 Ever heard of a flower that smells like apples? Look no further than the fabulous chamomile plant, the Matricaria Chamomilla. And while it has a pretty, daisy-like flower, I don't grow anything in my garden that I can't consume in some way. I grow it for the health and calming benefits, and more recently, as a beauty treatment for my hair and skin.
Here's a partial list of it's benefits:
Aids in digestion and stomach aches
Aids in menstrual cramps
Fights inflammation
Regulate glucose levels and fights diabetes
Calms anxiety
Wonderful skin hydrator and soothes acne and tightens pores
Effective scalp and hair hydrator and prevents breakage
And…and…and!!! Chamomile is easy to grow in a pot. I'm growing German chamomile that I purchased from Botanical Interests. It is such an unfussy plant that even prefers a bit more poorer soil that the other vegetable divas I've got in my garden. It takes a couple months for the plant to start blooming, but boy, when it does, you'll be harvesting everyday through the summer.
As a skin tonic
Pour one cup of  boiling water on two or three fresh or dried flowers into a mason jar. and a teaspoon of vegetable glycerin and a couple sage leaves (optional) and let it sit for an hour to cool. Put into a spray bottle and use it as a toner after you wash your face.
As an anti-breakage hair tonic
I boiled four cups of distilled water and a tablespoon of chamomile flowers, three sprigs of rosemary, sage, lavender, and thyme and let it sit covered (don't let the steam escape because it takes all the benefits away!) until cooled. I add one teaspoon vegetable glycerin, a teaspoon of jojoba oil, a teaspoon of coconut oil, and two tablespoons of of aloe vera juice and let all the ingredients merge. I transfer into a spray bottle and keep the rest in the refrigerator so it keeps. The concoction makes my hair incredibly shiny, thick, and hydrated.