Since I don't watch ratchet reality shows, I have no idea whether or not Kenya Moore is the enemy or not, so please don't judge me. The extent of my knowledge of her is that she starts on "Real Housewives of Atlanta," she's a former beauty pageant winner, and she has a delicious juicy booty. And since I'm a fan of juicy booties on pretty brown ladies, I'd thought I'd share that Miss (Mrs.?) Moore has a new boot-busting DVD in which she will show you how you can have such beautiful backside deliciousness from the comfort of your own home.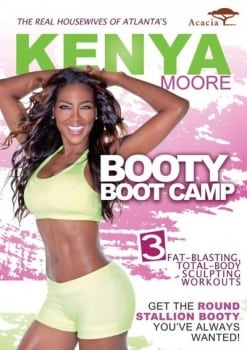 Now I have to be honest–I'm not totally impressed with Kenya's teaching skills. She pretty much doesn't in the entire first half. She looks cute and participates while the real person who created this workout walks the audience through. I mean, it's okay if you need to feel like a celebrity is getting down and dirty working out with you in your living room, but I'm more impressed with the people who actually put in the effort to create and teach.
However, there are some good booty-busting sections included, so it might be worth checking out. Wait. I just Googled and discovered there's some sort of weird competition going on with her and some chick named Phaedra. What a SHOCK! These chicks even have to have drama around a dang workout DVD.
In an article titled, "Phaedra Park, Kenya Moore in Booty Battle over Workout Videos," Moore said this:
"Whether you are #TeamStallion or team broke-down donkey, my fitness video sales have broken records and the video is and remains more successful than hers," Moore posted on her Bravo blog, referencing the Amazon rankings. "The facts are the facts. I've outsold her and have the more successful video."
I swear, the way women sometimes treat each other makes me want to completely give up on humanity and hurl myself off a jagged Grecian cliff with my flabby ass flapping in the wind as I hurl to my doom.
Anyway, here's a clip:

You can buy the DVD and check out what other folks have to say about Moore's DVD here.