When you're an urban gardener like me, you might be trying to figure out how how to maximize the limited space while producing high yields. While you're finding creative ways to hang tomatoes from the chandelier, don't forget that the single best thing you can do to ensure you'll make the most use of limited space by increasing your soil fertility. This goes beyond stinky fish emulsion and bone meal. It's time to delve into the world of brewing compost tea.
I learned about compost tea from a popular You Tube  channel, GrowingYourGreens. I was skeptical at first of his voo-doo science about soil amendments like rock dust and sea minerals, and brewing compost just seemed so…extra.
But then he had me convinced when I saw he had a virtual Eden smack dab in water-starved Las Vegas. Some additional research on before/after photos of gardeners (mostly weed growers) using the stuff and then I decided to give it a go in earnest.  There's some emerging evidence that compost tea creates greater yields and more nutritious and better-tasting produce.
Here's a shot of my garden last month:

Here's my garden as of yesterday. Pay particular attention to the difference in size of the tomatoes. One is nearly three feet tall.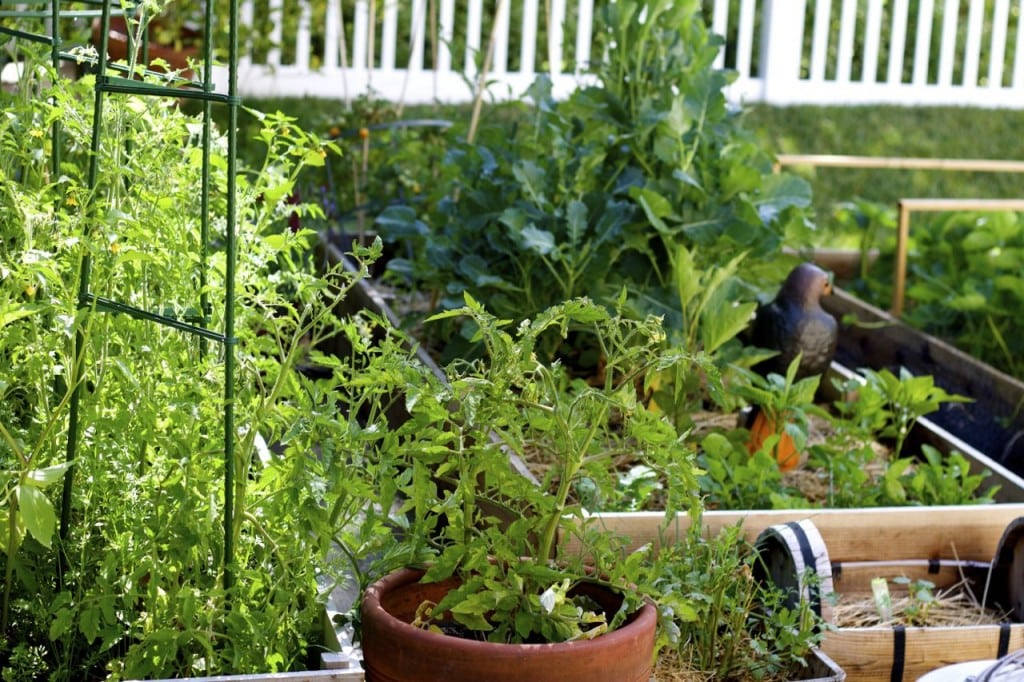 This is how the potted tomato plant looked like mid March.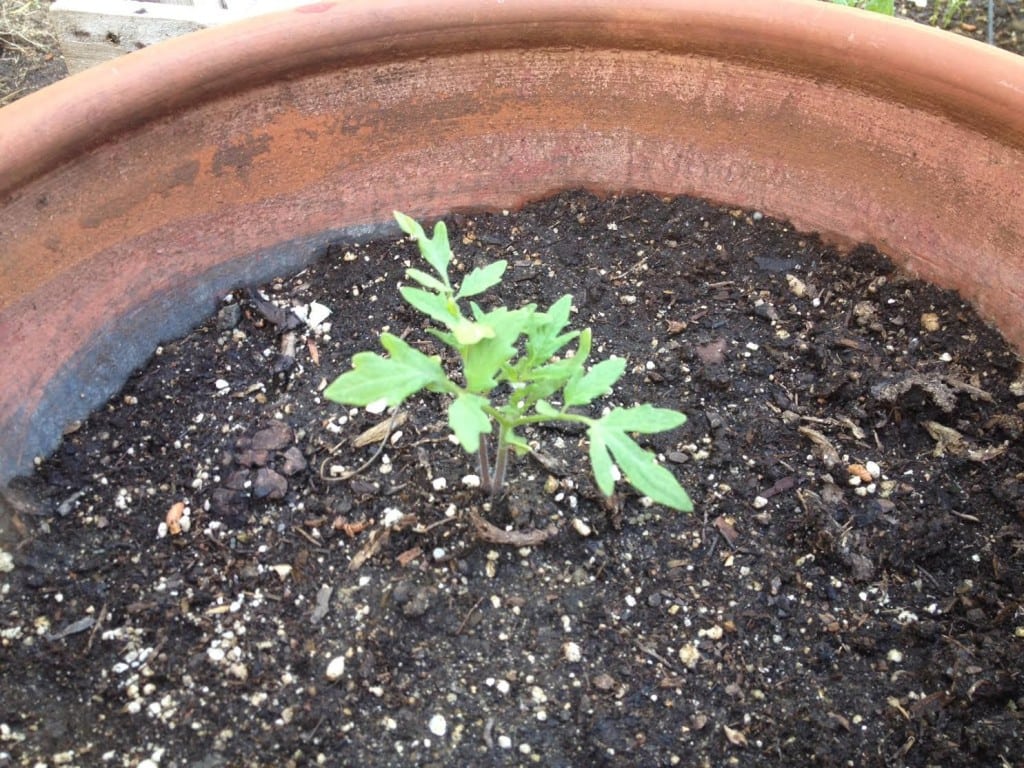 Honestly I've been shocked at how my plants have performed. Even my flowers. I have a persnickety gardenia plant that might squeeze one or two flowers at a time. After application of organic fertilizer, rock dust and compost tea, here's the result. This is not small feat–growing humidity-loving gardenias in the Southern California desert is tricky. There are four flowers, lots of buds, and tons of dark, glossy leaves.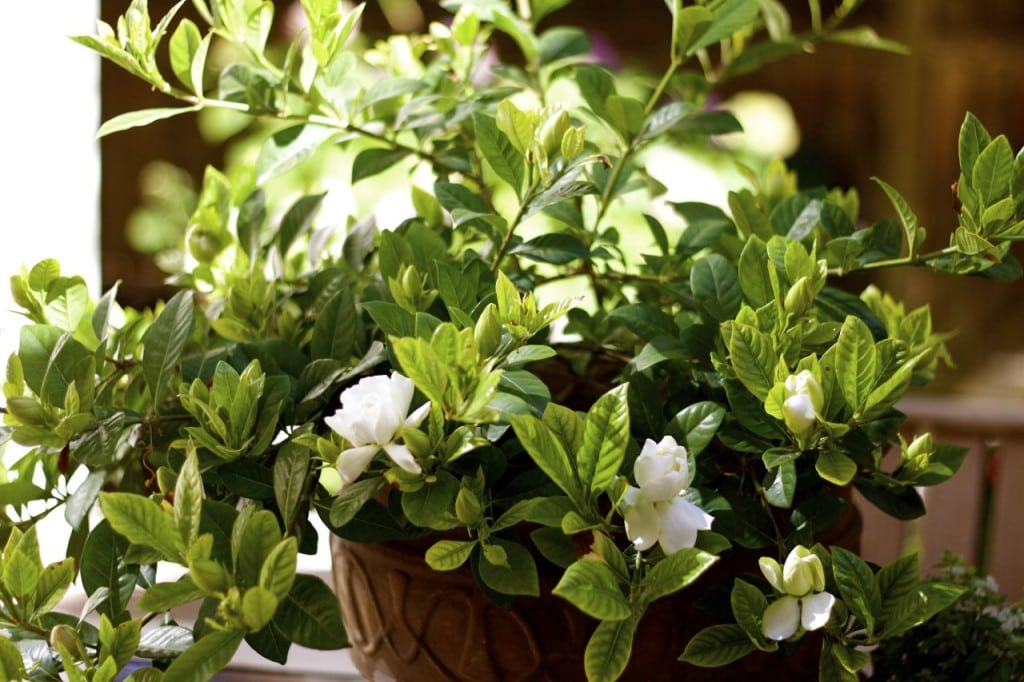 Okay so I bet you're asking, "What does compost tea, sea minerals and rock dust do, anyway?" I'm not a chemist, but from what I've read and researched, rock dust, sea minerals and compost tea work together to maximize soil fertility by reintroducing essential minerals that our depleted soil often lacks. Rock dust and sea minerals encourage beneficial fungi. Compost tea introduces beneficial bacteria that works IMMEDIATELY by allowing nutrients to flood into the root system. When applied on the leaves, compost tea leaves a protective film on the leaves to stave off disease. Think of it as probiotics for your plants.
How I Use Compost Tea
I brew tea for various parts of my garden about twice a week. There's lots of different ways to do it, and the great thing is you can't over fertilize. There's no risk of burning the plants.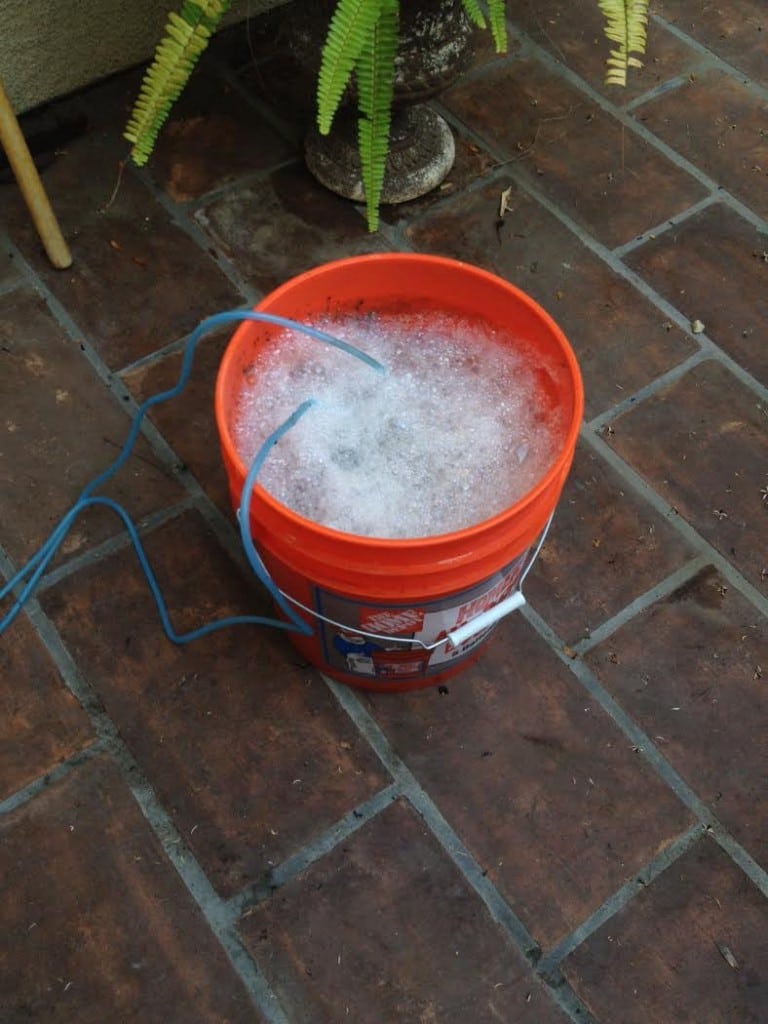 All those bubbles at the top of that five-gallon bucket are waste products given off by the bacteria being produced. It's a good indicator your formula is working like it should. Compost tea MUST be aerated and free of chlorine. Trust me, I know. I had a couple false starts because I thought I might cut corners. You shouldn't.
What You Need to Brew Compost Tea
Compost tea mixture. I use Boogie Brew.
Five gallon bucket
Air pump (I bought one from the pet store. It has to be powerful and be able to pump about 100 gallons)
Two air pump hoses
Two large oxygen stones
After brewing my tea for 12-24 hours, I hand water a mixture or one part compost tea and three parts chlorine free water (chlorine kills the beneficial bacteria. You can get rid of chlorine by running the air pump in your water bucket for at least two hours to get rid of it.
Some helpful links and videos to brew your tea…